Slovakia: Construction begins in Kosice
source: KosiceDnes.sk; author: michał
Contractor took over on the site of future stadium in Kosice. Archeological and enabling works will last until spring and the 9,080-capacity arena will be ready in mid-2017.
2015 has been a good year for Slovak football. While the national stadium is still caught in an impasse, City Arena in Trnava was opened and now construction on another major stadium begins. On Wednesday the municipality of Kosice handed over 80,000 square meters in southern part of the city to the general contractor.
Until April (preferably) or May (deadline) 2016 the company BOBEK will carry out archeological examinations of the site, while excavation for future foundations will be carried out. In late spring of 2016 actual construction work will follow and the stadium should be ready in just over a year from that point.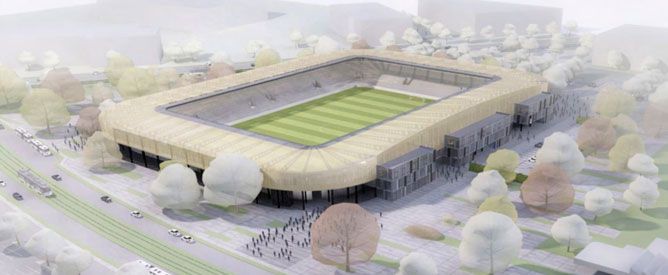 VSS Kosice should begin using it for the 2017/18 season. The club, recently relegated from top division for financial reasons, has a 15% stake in the company responsible for delivery and operation of the stadium. Remaining 85% is owned by the city of Kosice.
Official groundbreaking by the end of 2015 guarantees that the city will receive funding from outer sources. €8 million will be covered by a preferential loan from the Ministry of Finance, while further €4 million is a grant from the Slovak football association SFS. Overall cost of the stadium may reach €15 million. Its final capacity is estimated to be 9,080 seats.