New stadiums: Updating Indonesian Super League
source: StadiumDB.com; author: michał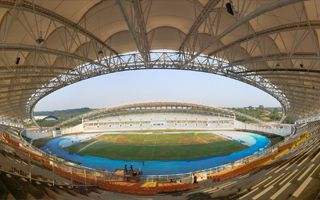 Four new stadiums from Java, Borneo and Bali join our presentations from Indonesian Super League. And one second league stadiums from east Java, also worth the look!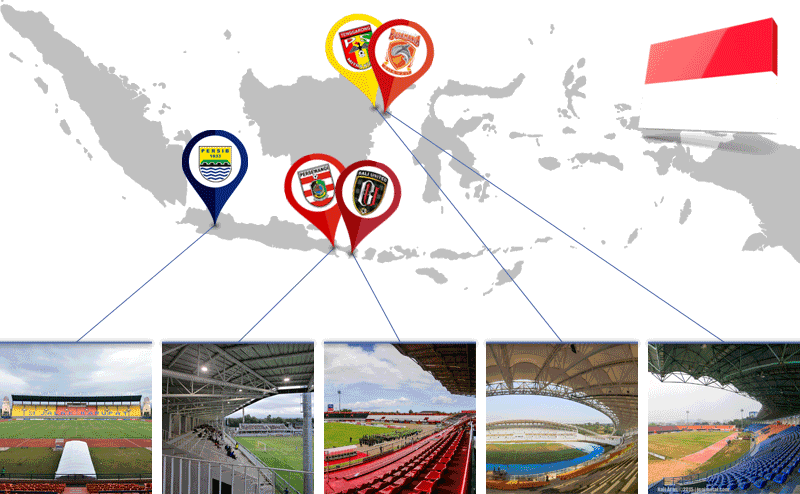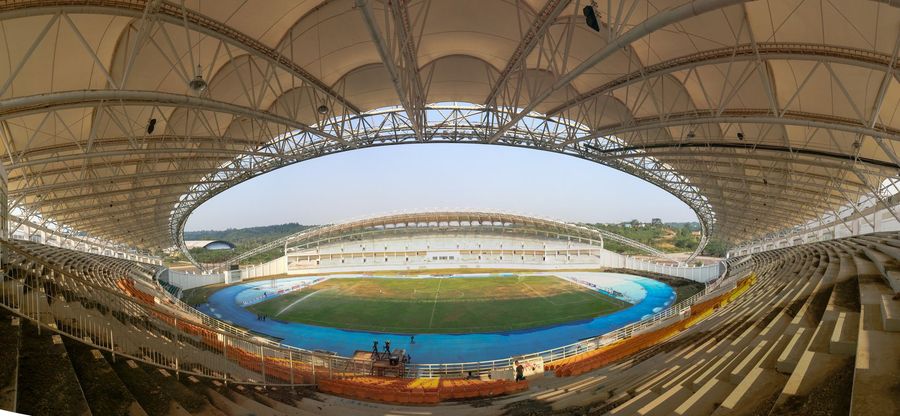 © Naif Al'as
Delivered in several phases, this sports complex is the first so large development on the eastern bank of Mahakam River in Tenggarong (entire town is on the west side). Altogether on 100 hectares around a dozen various arenas were built, including Southeast Asia's first indoor velodrome, according to local sources.
The stadium had cost IDR 899 billion (roughly $64m) and offers two grandstands with dynamic arch-supported roof. Only the west side is partially equipped with seats, while the east one offers only bare concrete.
Since its opening the stadium is home to one of more significant teams of Indonesia's central level (though not among most popular), Mitra Kukar.
Since 2011 the arena also bears the name of Sultan Ali Muhammad Muslihuddin, who used to stay in the stadium's area and created today's Tenggarong.

© Naif Al'as
The stadium isn't actually located within Bandung itself, but in a remote village of Soreang, south of the city. It was built in the place of former farmlands in 2003-2005 and was subject to quite some controversy. It was estimated to cost under IDR 40 billion, but ended up consuming nearly 70 bn. Investigation of alleged corruption is still ongoing.
Though built in athletic layout (with the 8-lane track meeting highest standards), the stadium is in fact used almost solely for football. Since opening it's been the home for Persikab and in 2008 a much more famous team moved here: Persib, one of Indonesia's most popular clubs.
When opened, it could hold roughly 40,000 people (no seats), but current capacity according to international standards is under 30,000. Actual attendances here were reported beyond even the higher number, but since last major renovation in 2010 official capacity is lower than the initial one.
The stadium's name honours Oto Iskandar di Nata, national hero who goes by the nickname Jalak Harupat.

© Naif Al'as
The stadium in western, rural outskirts of Gianyar (southern Bali) was built in 2003 to bring Super League to the tourist island. First team to play here was Persegi, but it was dissolved in 2007. Then Bali Devata FC came in 2010, but lasted only a year.
Throughout that time the stadium was severely underinvested. In Indonesia's climate this meant quick deterioration of its standard. This situation was changed only in 2015,when the area was rural no more (rapid expansion of the city). Bali United was established (from former Persisam Samarinda) and the stadium went through major renovation, including new paintwork and floodlights.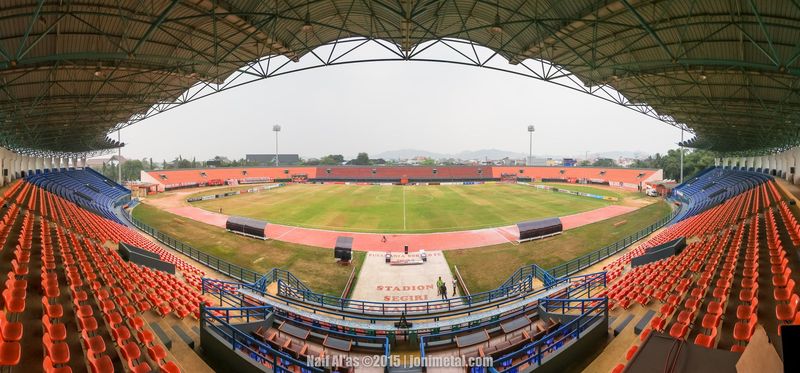 © Naif Al'as
It's the most centrally located stadium of Samarinda, Borneo's largest city. It was built back in 1970s as a simple field with running track and a modest western grandstand. It existed in this form until early this century, only changing after the city was selected to hold the 2008 National Week of Sport.
After major reconstruction it has a separate western grandstand with seats and cover, joined by C-shaped remaining sections able to hold over 10,000 people.
Key tenant of the stadium used to be Persisam, but the team relocated to Gianyar. Currently it's Pusamania Borneo FC who play that part.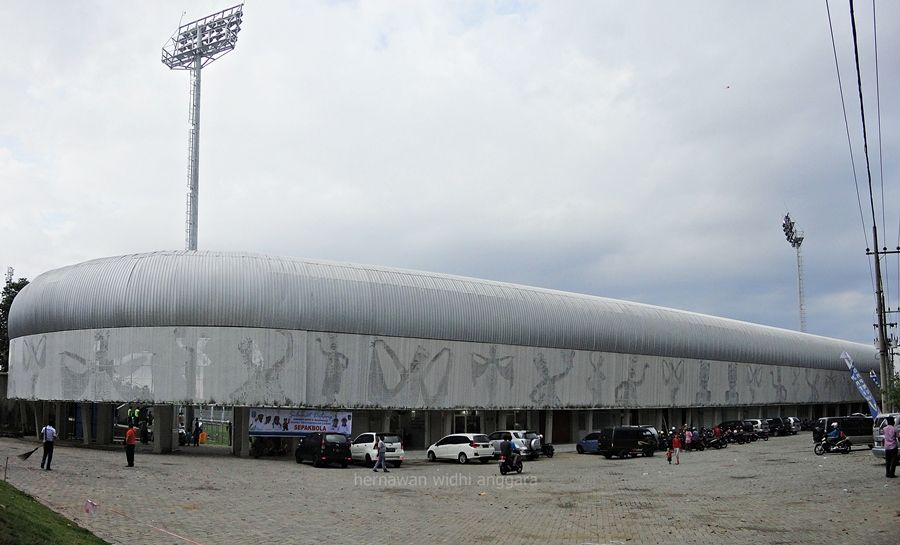 © Hernawan Widhi
In early 21st century this stadium in the heart of Banyuwangi (east Java) had only a small grandstand along the western side, providing room for sportsmen underneath. In 2005 additional two stands joined the western one, but even together they didn't span throughout the length of the field.
East stand was added in two phases. First the central section in 2008 and then its southern extension in 2012. The north end cannot be occupied due to high density of local housing.
The greatest upgrade to date cam in 2014-2015, when the new south end was built. Audience are placed on top of a ground-floor building with modern infrastructure. This end is the only one fully enclosed and covered, with interesting cut-out patterns in outer cladding representing dancers in traditional Gandrung dance poses. Along with the south end artificial lighting was added.