Hungary: Farewell, Legend of Budapest!
source: StadiumDB.com; author: michał
It's the end of an era for Hungarian football. The country's most impressive and recognized stadium is officially closed and awaiting demolition. New one will be even larger, which raises questions.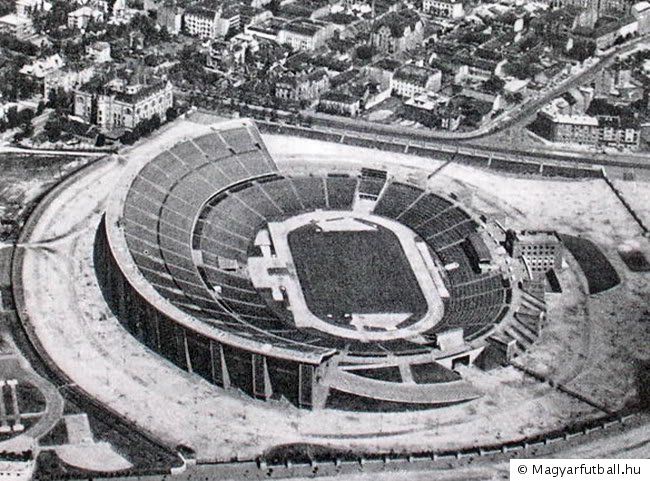 It was the place for Hungary's greatest derbies and European cup games. It saw 192 official games of the national team. It was the stage for Hungarian football's glorious era in 1950s and 60s. This is where legends Ferenc Puskás and Sándor Kocsis gave some of their stunning performances.
Now the most important part of its history is the past tense: Puskás Ferenc Stadion is officially closed and will no longer hold such crucial games. Final farewell took place on Monday with a series of friendly games. These included derbies like Ferencvaros – Vasas or Ujpest Honved, but also rather awkward fixtures between Winemakers and Writers or Lawyers vs. Doctors.
Despite free entrance for the event, stands were hardly crowded. The event's 6-hour formula proved not as appealing as organizers had hoped, while the stadium's legend has already faded significantly. Last competitive game of Hungary was played here back in 2014, because the team later moved to newer venues of Ferencvaros and Debreceni VSC.

These stadiums aren't only newer, but also much smaller. This has become the curse of Puskas Stadion, which proved far beyond regular ticket demand even for high-profile international fixtures. Once the golden days had passed, it just didn't suit the needs.
Which also makes the new planned stadium controversial. Once demolition ends and foundation works go on, we'll begin to see an even larger structure growing from 2016 to 2019. Despite capacity being within the current stadium's size (just under 68,000), its actual size will be far bigger than the current structure's.
And is there a need for 68,000 seats for any Hungarian games, be it domestic or international? The answer is a very simple 'no', which is why there's been quite some criticism of the impressive scheme.
Even more so after non-football commercial uses were scrapped due to cost-cutting efforts. While it may keep the stadium at around 100 billion forints ($360m / €320m), it will surely make any attempts at generating revenue year-round much harder.
Just how much the stadium will cost and generate is yet to be seen. For now the already delayed project has to begin in order to meet UEFA's deadline of 2019 for delivery. This will be early enough to host the Euro 2020 without problems. A great, prestigious beginning for the new stadium is already secured with this tournament, but will regular use prove as impressive?