New design: Boston's temporary giant
source: StadiumDB.com / Boston Business Journal; author: michał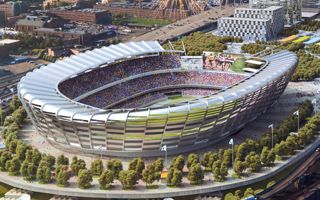 We've already seen the iconic vision of Hamburg. Now let's check Boston's bid to win the 2024 Olympics. First ever entirely demountable stadium would be cheap, but… not really.
The 2024 Olympic Games may be an unprecedented event if they're held in Boston. The bid submitted to the IOC is the only one funded entirely privately. And while it's been advertised as a project not using taxpayer money, it will use at least a significant portion of it in its final budget. Still better than entirely public tournaments, but slightly less than some news releases may have suggested.
Now for the main stadium. The plan foresees locating potential 2024 Olympics Main Stadium in Midtown, an area south of downtown Boston.
The building would be fitted between highway and railway hubs. It should have its northern end left open in order to visually connect with remaining Olympic facilities and the downtown. However, let's keep in mind the renderings shown are only early drafts.
If delivered in proposed form, the stadium would become the world's first fully demountable Olympic stadium. The structure is expected to be simple, possible to assemble in as little as 12 months. Maximum time suggested by the Boston 2024 bid is 18 months.
Its cost is also expected to be a modest one, or at least the direct construction expense. Erecting the planned infrastructure would consume $176 million, less than any Olympic stadium in this century. However, associated cost is a huge burden. Land acquisition from local authorities and food market operators would cost $285 million, while site clearance and preparatory work is estimated at as much as $640 million.
All in all, together with conversion to residential/commercial zones in legacy mode, the stadium-related cost would be even $1.2 billion. Not as optimistic as one might think, though still a competitive proposal to permanent stadia, especially in the era of media outcry against "white elephants".