Poland: Torcida in bloom for Górnik Zabrze
source: StadiumDB.com; author: michał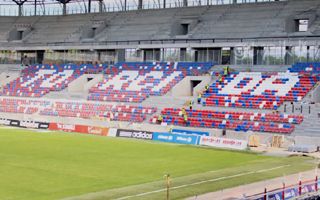 After over two years of waiting fanatic supporters of Górnik Zabrze can now see their stadium flourish… with seats. All in the hope of saving Górnik's license for upcoming season.
Earlier in June installation of seats began in Zabrze, where local Stadion Ernesta Pohla has been waiting for this phase since 2013. After a series of delays work is now in full swing as the stadium needs to grow for 2015/16 season of Polish Ekstraklasa.
Otherwise Górnik will be forced to find an alternative venue. The club is obliged to have at least 4,500 seats and the existing old grandstand is only 3,000. Some sections of the new grandstands, standing unfinished for two years, need to be adjusted and opened before late July.
However, since the seat mounting began on June 1, until this week only under 300 were put in place in the southern lower deck. This began changing on Monday and by today the lower south stand is almost entirely covered with Górnik's colours, as seen below.
Among the white-blue-red mosaic the word "TORCIDA" can now be seen. It was requested by supporters during consultation process. While torcida is a Portuguese word mostly associated with Brazilian football, Górnik is one of two famous European clubs to have their fanbases nicknamed Torcida, alongside the Croatian Hajduk Split.
Now railings are being installed in the south stand as it still requires a lot of work before July. Access routes are being prepared simultaneously, while toilets and concession stands won't be ready in time for 2015/16 season opening. Instead, temporary facilities will be prepared and eventual ones will come later into the campaign.
By the end of the season, Górnik's revamped home should accommodate up to 27,000 people, 24,000 of whom will be seated in three new stands. The stadium is severely delayed since the initial 2013 delivery date and nearly caused bankruptcy of the club which has to settle with just 3,000 seats, losing many active supporters.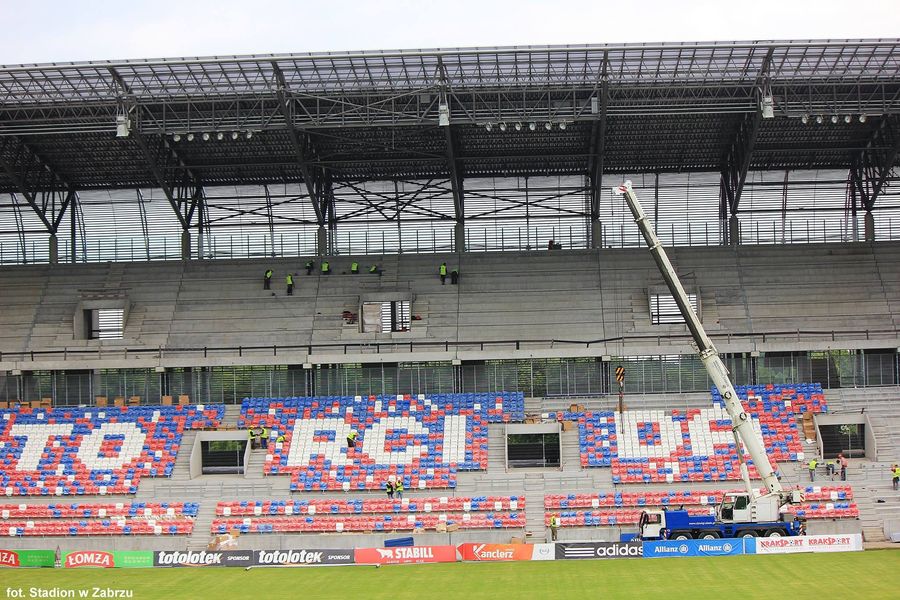 © Stadion w Zabrzu