Poland: One more farewell to iconic stadium in Poland
source: StadiumDB.com; author: michał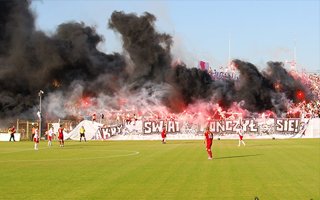 It saw a fair number of great games, including Poland's wins over Turkey, USA, Norway or Hungary. Yesterday fans filled it to capacity, saying goodbye to the last standing terrace.
Lodz is Poland's third largest city with two honoured football clubs and seeing that it lies at the heart of the country, it was also the sight of some glorious football history. Stadion ŁKS enjoyed 10 international games of Poland since 1924 (!) and despite being friendlies, some of those games were satisfying victories, like the 4:0 against USA in 1973. However, of both famous stadiums only one grandstand is still left.
As we informed you last year, the stadium of Widzew is under reconstruction and the old one was completely torn down. A new stadium for their local rivals ŁKS is also under construction and will see its main grandstand opened in July. However, since it's being built several meters north of the existing one, last grandstand of that historical ŁKS stadium was in use throughout the 2014/15 season.
And not just any stand. It was Galera (the Galley), eastern grandstand occupied by ŁKS's most vocal supporters. It saw some of Poland's most amazing choreographies, flags and other performances by fans. Once able to hold up to 10,000 people, it was converted to just over 4,000 seats several years ago. In recent weeks ŁKS fans were mobilizing themselves to #OddajHołdGalerze or #PayTributetoGalera with scenes like this one:
Last game
From next season onwards, ŁKS will be playing at the new stadium, initially with 5,700 seats. Demand isn't higher than that number on a regular basis (after the team went bust and is now reborn in the fourth league).
Still, yesterday all tickets were sold out hours before the game. To give you an impression of what the attendances are in Polish fourth league, games of less than 100 people are much more common than those of 2,000 or more. On Saturday it was 2,400 by official count in Lodz as fans flocked to bid farewell to the stadium.
Whether they did it with style, we leave the judgment up to you. They surely left the grandstand almost untouched after appeals not to rip out seats or other elements as souvenirs. Those will be handed over to fans, but only after being professionally removed. As for result on the pitch, which was of no relevance to either teams' league positions, it ended 2:2...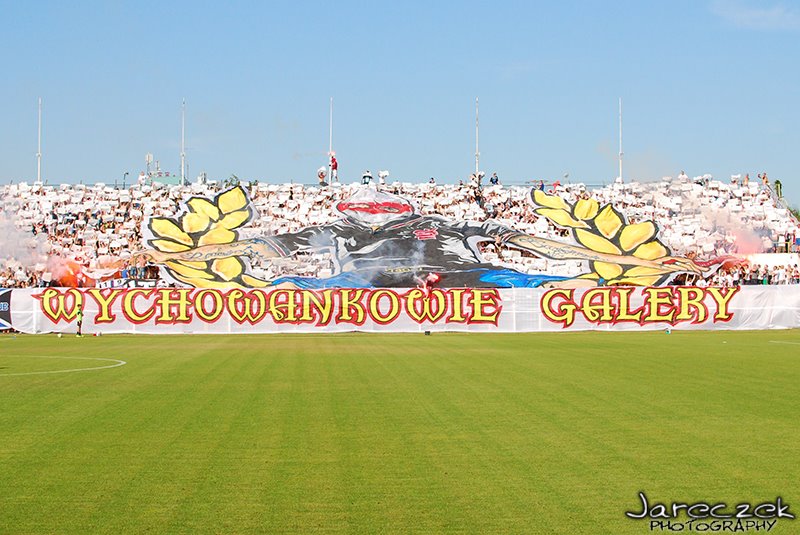 © Jareczek Photography
© Jareczek Photography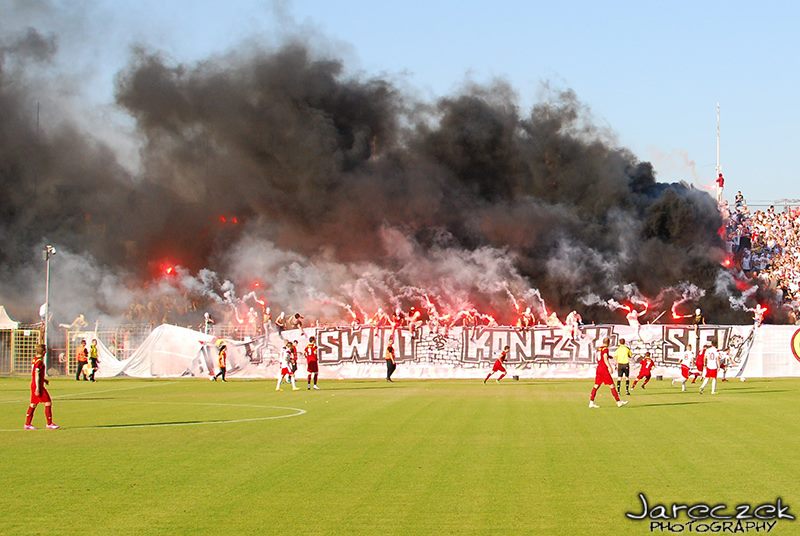 © Jareczek Photography