Poland: Not entirely worthy farewell in Lodz
source: własne; author: michał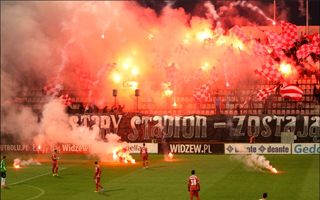 One of Poland's most popular clubs said goodbye to their old stadium today, following 84 years of service. But it was hardly an actual celebration of the old stadium, spoiled by players and some fans.
Saturday afternoon was supposed to be a celebration of one of Poland's most famous stadiums. Today the very last game at existing Stadion Ludwika Sobolewskiego was played. What was considered one of more decent stadiums a few years back, now is outdated and will be replaced by the new 15,000-seater by 2016.
Old landfill stands were packed to capacity, which is worth noting, because Widzew Lódź is currently in one of the team's worst moments. They're the very bottom of the second league after recent relegation and are expected to descent even lower. Still, 6,980 people decided to bid farewell to the historical stadium despite appalling results and it would have been most likely 10,000 if it wasn't for the closure of northern end.
Unfortunately for Widzew, after 24 minutes GKS Katowice were already in the lead. By half time the score was 1:1 and hasn't changed until the end of the game. This means that Widzew, one of the most successful teams in Poland's history, has only 9 points halfway through the season, making any comeback in spring extremely difficult.
In the stands the atmosphere was still considerably good and many fans didn't allow the poor results spoil their farewell. Two large tifos were presented by Widzew supporters.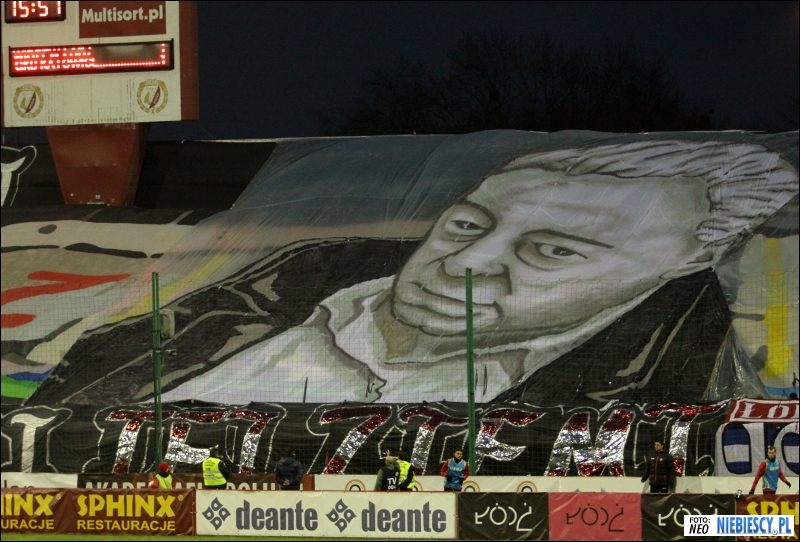 Photo: Neo, Niebiescy.pl
One at the southern fanatic 'Clock Stand' (above), which used John Paul II's quote from his early visits to Poland: "Let your spirit descend and change the face of land, this land". Except now "this land" was illustrated on a large flag as one of the stadium's stands and the spirit was one of Ludwik Sobolewski, Widzew legend who passed away 6 years ago. Another large banner with his image was unfolded as second part of this presentation.
Beginning the second half, the entire eastern side was covered with dotted flags and decorated with some flares. Unfortunately many of them were soon thrown onto the pitch, not minding that team captain Rafał Augustyniak came towards the stands to throw them away. The player was hit slightly with one of the flares, though not injured. The incident caused a pause in the game and may result in severe disciplinary charges towards Widzew.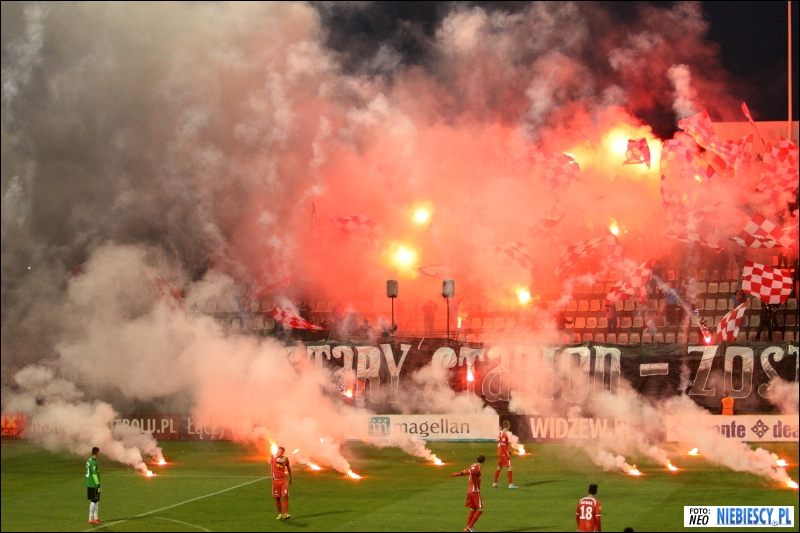 Fot: Neo, Niebiescy.pl
As the game ended, without great enthusiasm after another game without a win, fireworks were set off from the north stand. The speaker asked spectators to remain in their stands, but some of them started ripping off seats or trying to break down the fence. It would be understandable for a farewell game, but when some seats were used as missiles, police forced fans out of the stadium…