Bursa: How green should a crocodile be?
source: StadiumDB.com; author: michał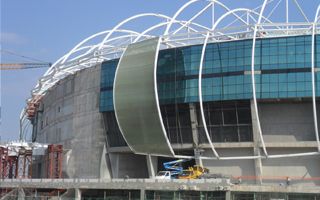 It's only a piece of membrane, but overnight caused serious outcry in Bursa. Bursaspor fans are flooding the city hall with complaints, because the façade colour doesn't match renderings.
Timsah Arena is one of these stadiums that made global headlines before opening. The buzz is owed entirely on the stadium's resemblance to a crocodile, nickname of Bursaspor football club. Drivers entering Bursa from the west will be welcomed by a massive crocodile head, while the entire stadium is to be green-white.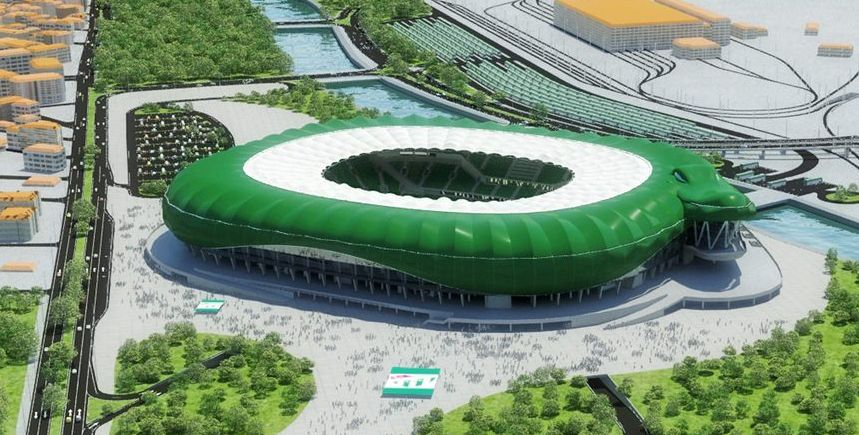 According to renderings, outer membranes would create an almost uniformly green "skin" of the new crocodile. Worth noting: the lower ring of membrane was always intended to be translucent and porous, yet still was expected to have the same colour as more shiny and completely opaque roof membrane.
Unfortunately reality failed to match computer imagery. On Friday the first piece of lower ring membrane was mounted in the north-western corner of the stadium. As all upper ring sheets are on the opposite side of the stadium, comparing them is hard. But, as one fan at wowTurkey.com messageboard simulated using Photoshop (below), the two parts barely match one-another as it was promised to the locals.
The issue turned out to be important for many people. Overnight they've sent a couple hundred complaints to the city hall, demanding a change and explanation. The last one may be needed indeed, because the membrane (or mesh, as Bursaspor fans precise) may have been installed for testing only and doesn't necessarily have to be the final selected material. Still, no comment from officials has been issued to date.