California: Land, design and cost in Sacramento by year end
source: KCRA.com / StadiumDB.com
They may have not made it to MLS yet, but Sacramento Republic may still count on a new MLS-specific stadium. Details are to be known this year.
If you're reading us regularly, you surely remember Sacramento Republic, the USL Pro team famous for drawing nearly 20,000 people per game and then building a temporary home in a couple months. They were recently denied a place in latest MLS expansion decision, but are still hopeful of becoming a part of the league some time soon.
Key point to reach is building a new stadium. Mayor Kevin Johnson and Republic FC representatives arrived on the designated land of former railyards on Wednesday, hosting a press conference dedicated to the stadium. Its early conceptual drawings (below) were presented last year and now the scheme is to go forward.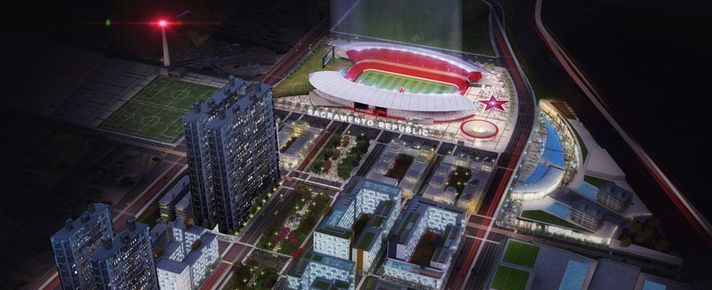 They unveiled a list of tasks they intend to complete to make Sacramento's stadium plan shovel-ready by the end of the year. The tasks include conducting a feasibility study, hiring a pre-development team, coming up with a concept design and cost estimate, obtaining control of the site and producing a preliminary term sheet for financing.
Owners of the Republic FC said they would pay for the cost associated with the pre-development plan. Investment partner of the club Larry Kelley has been trying to buy the land of former railyards since 2013, but unsuccessfully so far.
"I don't have any discomfort that we're not going to have site control so that we can move ahead," said the Republic's managing partner, Kevin Nagle. "I want to do it this year, as opposed to maybe next year."