Moscow: Luzhniki to turn into one giant screen
source: StadiumDB.com; author: michał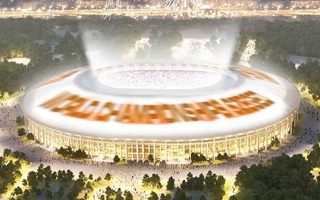 The existing roof may have been preserved during construction, but it will soon gain a new use. 39,000 square meters of dynamic illuminations will allow people across Moscow to see the game.
Works began on nighttime illumination under the vast dome of former Luzhniki Stadium. Translucent part of the stadium's cover will span over 39,000 square meters and part of it is the new inner ring, recently completed. That part, increasing the roof's range by 11 meters, was added to protect fans in newly-built first rows of stands.
The roof will be set alive by LED lamps, 900 of them already being tested. While the final system will operate no sooner than 2016, already now residents of Moscow may see the stadium shine at night. The final outcome will allow to display flags, sponsors or the game's score throughout the roof, like in the below rendering: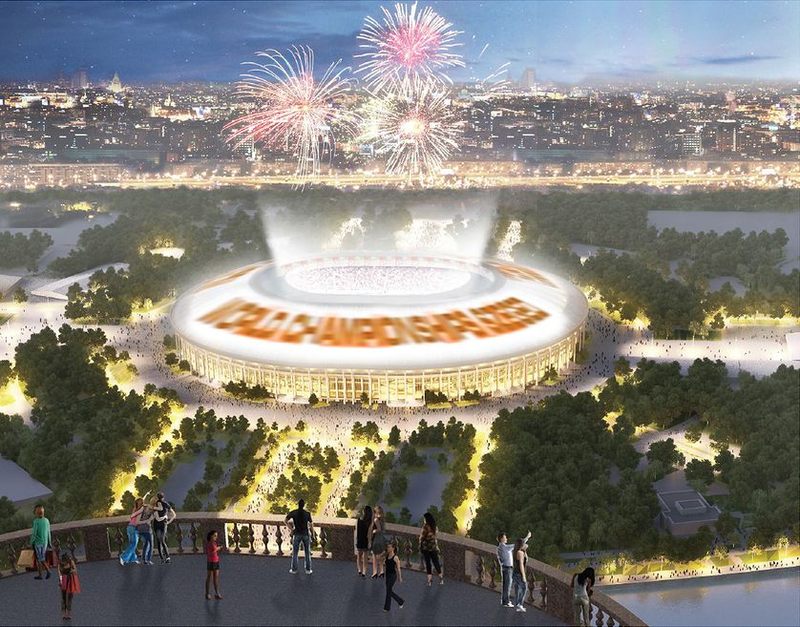 The lighting system will be able to operate throughout the year despite Moscow's harsh climate. It can withstand use in temperatures of -30 to +50°C.
Not less impressive is the current progress rate throughout the stadium. All foundations have been laid and overall structures supporting future stands are already at 60%. Bulk of the stadium will be delivered in 2016 and after furnishings and testing opened in early 2017.
Currently construction works are one month ahead of schedule. As we previously wrote, the reason for unexpected pace is financial instability.