Rotterdam: Red De Kuip ready if asked by Feyenoord
source: StadiumDB.com; author: michał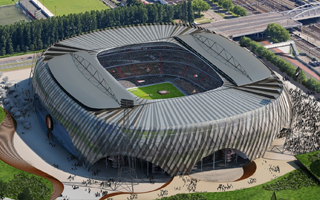 Feyenoord's negotiations with BAM Sports don't seem to progress despite months passing. That's why the runner-ups for De Kuip revamp announce they're ready to take over.
As you read at StadiumDB.com, in May last year Feyenoord announced the winning bid for complete redevelopment of De Kuip. The contract was to be awarded to BAM Sports, who have many venues in their portfolio.
However, as we reach the 9th month of mutual talks between the club and BAM, the company hasn't been able to provide documentation for what they offered. News surfacing from various sources suggest the concept proved impossible to deliver in the projected budget, unless significant alterations are made. The club doesn't comment apart from stating there's no plan B at this point and talks are ongoing.
That's why Red De Kuip consortium, who lost the race very narrowly, announce they're ready to take over whenever Feyenoord wants them to. "If Feyenoord invites us, we're ready", says Erwin Eekelaar of Red De Kuip. He claims BAM had enough "time and space" to deliver a proper solution. Red De Kuip openly fear that Feyenoord may spend a lot of money on an unfeasible project.
However, it should be noted that raising doubts about BAM Sports' ability to deliver the redevelopment scheme is in Red De Kuip's interest. After all, the consortium still hopes to snap a contract they value at €194 million. Initial version of their proposal was estimated at €141 million, but a more impressive version with retractable roof and capacity of up to 70,000 (instead of 63,000) is more expensive. Below you can see the evolution of Red De Kuip's vision within the last year: