Rotterdam: Winning concept of De Kuip selected
source: StadiumDB.com; author: michał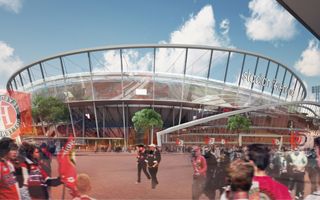 Conceptual vision by BAM Sports was confirmed to have won De Kuip's revamp today. The old stadium will grow to 70,000 and become by far the largest in all of Benelux.
It's been exactly one month since three scouts/jurors shortlisted two finalists (BAM and Red De Kuip) in the race to redevelop most famous Dutch stadium. Today Wim van Sluis, Hans Vervat and Jos van der Vegt announced that BAM Sports received their support and was recommended for implementation.
Over the last month both project teams were developing their final schemes of how De Kuip should change. During that time the capacity suggested by BAM moved upwards from 65,000 to the maximum of 70,000.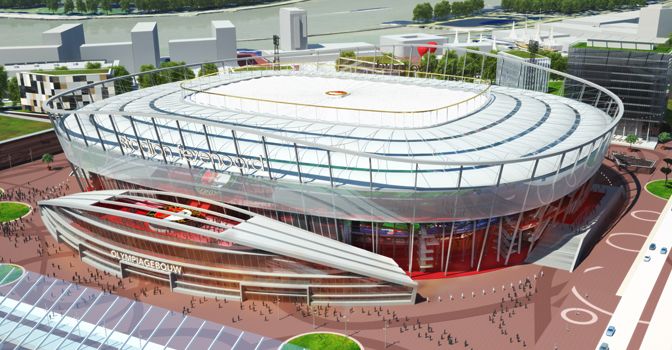 At the same time expected cost is now €200 million, not € 185 million. But while the price difference is considerable, both figures are less than 50% of how much a brand new stadium would cost. Meanwhile the revamped De Kuip will not fall short of any requirements, including hosting the Champions League final and providing a retractable cable roof.
As requested by Feyenoord, the redevelopment will see some challenges, because De Kuip will be in operation throughout the construction period, offering no less than 50,000 seats for each game. Works are set to begin in the summer of 2015 and Feyenoord hope to see a boost in budget already in 2015.
Once finished after three years, De Kuip will be by far the largest stadium throughout the Benelux, also offering unmatched corporate facilities. 6,300 business seats and 90 skyboxes are understood to be part of the scheme, while additional hospitality zones will be created behind the existing steel structure. With all these facilities available, Feyenoord hope to get more matchday revenue than any other club in the Netherlands.
In total there were six renowned architectural/engineering teams in the race for the famous stadium's overhaul: Zwarts en Jansma, Erick van Egeraat, Volker Wessels, Hennes De Ridder and the two finalists – BAM and Red De Kuip.