Australia: The stadium battle of Sydney to end soon?
source: smh.com.au; author: michał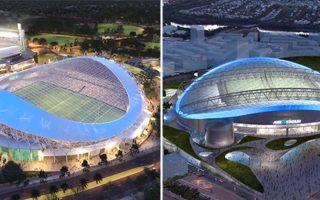 Ever since ANZ Stadium opened, it's been at constant odds with Allianz Stadium. The two are now competing for state funds and the final battle may come soon, according to Sydney Morning Herald.
Last year's State Infrastructure Strategy Update of New South Wales outlines the spending of roughly $600 million (€405m / US$465m) on sports infrastructure. This includes both minor and largest venues and their direct surroundings.
Two key stadiums in Sydney have been competing for their chunk for months, just like they've been competing for events since 1999, when the younger ANZ Stadium opened its doors. However, budgets estimated for redevelopment of Allianz Stadium ($250m) and ANZ Stadium's upgrade ($350m) together would consume all of the state funds. While neither stadium operator wants 100% public funding, allocation of the desired amount to any of them would mean cuts for the other.

No wonder both sides are targeting the feasibility of one-another's schemes, regardless of how similar they are in reality. Operators of both stadiums (Sydney Cricket and Sports Ground Trust and Stadium Australia Group) are in secretive negotiations with the New South Wales government. Neither party gives any comment, though the Sydney Morning Herald (SMH) understands the outcome could be clear by the upcoming elections (March 28).
Any outcome seems possible, though approving of limited contributions to both stadia seems the most probable. Both of these stadiums have a large role to play in the sports and entertainment market and the State Infrastructure Strategy Updates foresees a role to play for both of them with their respective precincts. If so, both will require upgrading as the structures are now somewhat outdated compared to domestic competition and international standards.
What's the plan?
As we indicated before, both stadium operators suggested surprisingly similar ideas for their stadiums last year. Both bids envisage the use of multimedia facades, which might change theming depending on the host. Both bids also indicate the need for a retractable roof to be installed over the stands. Most obviously both proposals foresee more corporate facilities and new commercial functions to support the stadiums.
There are of course more significant alterations possible at both structures. In fact, SMH suggests Allianz Stadium might see most or all of it demolished and rebuilt, while ANZ Stadium may include the world's first fully retractable double-tier stands.