Liverpool: Groundshare for LFC and Everton? One more vision
source: StadiumDB.com / LiverpoolEcho.co.uk
And an interesting one, perhaps the most bold to date. While there've been a few proposals already, this is the first to suggest an 80,000-seater at the heart of the city.
Before anyone gets overly excited – this is an independent proposal, created without endorsement of neither Liverpool FC nor Everton. And with both clubs spending hefty amounts on plans of their future stadia, it seems extremely unlikely any of them would follow this vision.
Still, recent developments around both stadiums encouraged NWD Architects to rethink the city's sporting facilities completely. After over a century both top clubs would be invited to move from Stanley Park to the very centre of Liverpool.
Here, in the place of St. John's Shopping Centre (Liverpool's largest mall, dating back to 1969 and considered for relocation a few years back) sufficient amount of room would be created for one large stadium. How large? NWD Architects assure this is a very early-staged idea, but the stands might be able to reach 80,000.
This goes well beyond the 50,000 planned by Everton and 58,800 of Liverpool FC. But while The Reds might enjoy this kind of scale (especially looking at the "season ticket waiting list" of 70,000 over 15 years), Everton never expressed plans of operating at such capacities.
Still, the idea sounds very much in line with some of the global stadium-building tendencies. Particularly those in the USA, where stadia are returning downtown to operate as multi-use event venues. However, with this stadium proposal focusing on two Premier League teams, hosting other events would have to be limited, if possible. There would be 38 home fixtures in the league alone, not including European or domestic cup fixtures.
Of course fitting an 80,000-capacity stadium at any city's heart has to raise questions about excessive traffic and other potential effects it would have. While it surely might bring more life to the heart of Liverpool, the stadium would surely also pose many challenges that haven't been addressed at this early stage.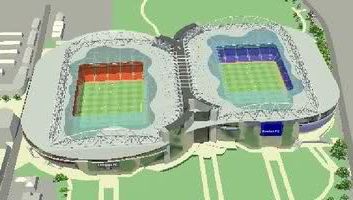 Still, this bold proposal surely isn't the most out-of-this-world vision proposed for Liverpool and Everton. The clubs, who had been urged to groundshare a few years back, saw a bizarre "Siamese stadiums" idea in 2010, envisaging two nearly identical stadiums conjoined with one-another.