Liverpool: Anfield expansion approved by planning officials
source: StadiumDB.com / LiverpoolEcho.co.uk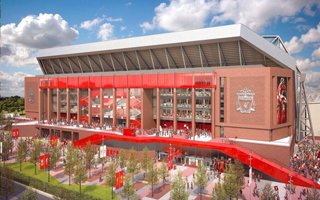 A week before the crucial City Council vote, city planning committee recommends accepting the plans for Anfield redevelopment. The vote itself seems a formality despite significant opposition among residents.
In their 70-page report, the planning committee recommends Liverpool FC's planning application for approval by the city council. Councilmen will visit the future construction site on Tuesday (23/09) before taking their final vote.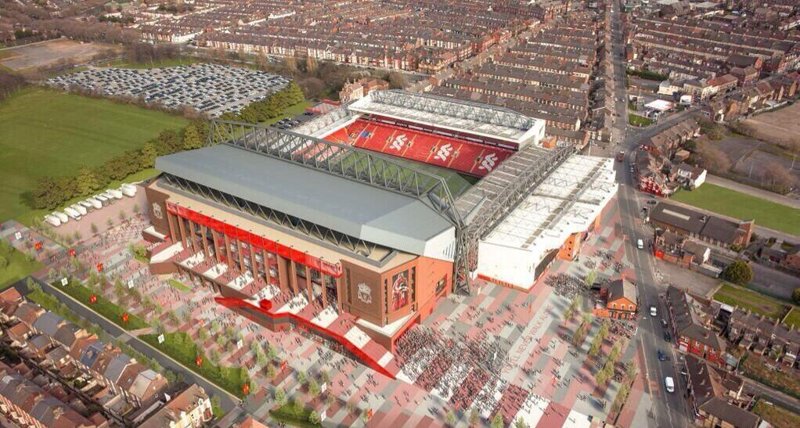 If (or when) the application passes, construction of the new Main Stand will begin in January 2015 and last 20 months. This will increase Anfield's capacity to 54,000, but the application also includes outline plans (without architectural details) for the north end's expansion, bringing total capacity to 58,800.
The main stand will not be demolished, instead it will be used almost throughout the expansion works. Initially an access strip would be kept between the two stands to allow access for match day spectators and stadium operations. Work will be carried out behind and above the stand, seeing new facilities and roof gradually surrounding the existing infrastructure.

Once ready to merge old and new structures, the old roof and uppermost 6 rows of the current stands will be demolished and a connection between existing and new seating will be created, all under the new roof.
The latter will be assembled on site from pre-cast elements, mounted by two tower cranes standing in each corner of the stadium.
While largely accepted by fans, the plans have excited fervent opposition from some residents groups, who believe the community has been "held to ransom" and has been forced to endure years of dereliction and decay while the club and council failed to commit to one scheme or the other.