Euro 2020: UEFA's safe choice of hosts
source: StadiumDB.com; author: michał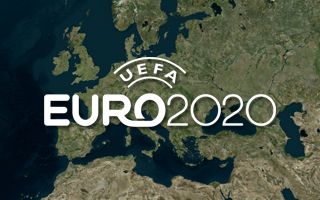 There's hardly any surprise in the list of 13 host cities. Sure, Saint Petersburg is included despite Russia's aggression. Sure, Stockholm is out and Baku has quarterfinals, but that wasn't hard to predict.
During today's brief ceremony in Geneva Michel Platini revealed the 13 host cities to get Euro 2020 games. Nearly every selection complies with preceding speculations and the evaluation report. UEFA went for a rather conservative and safe layout of the tournament.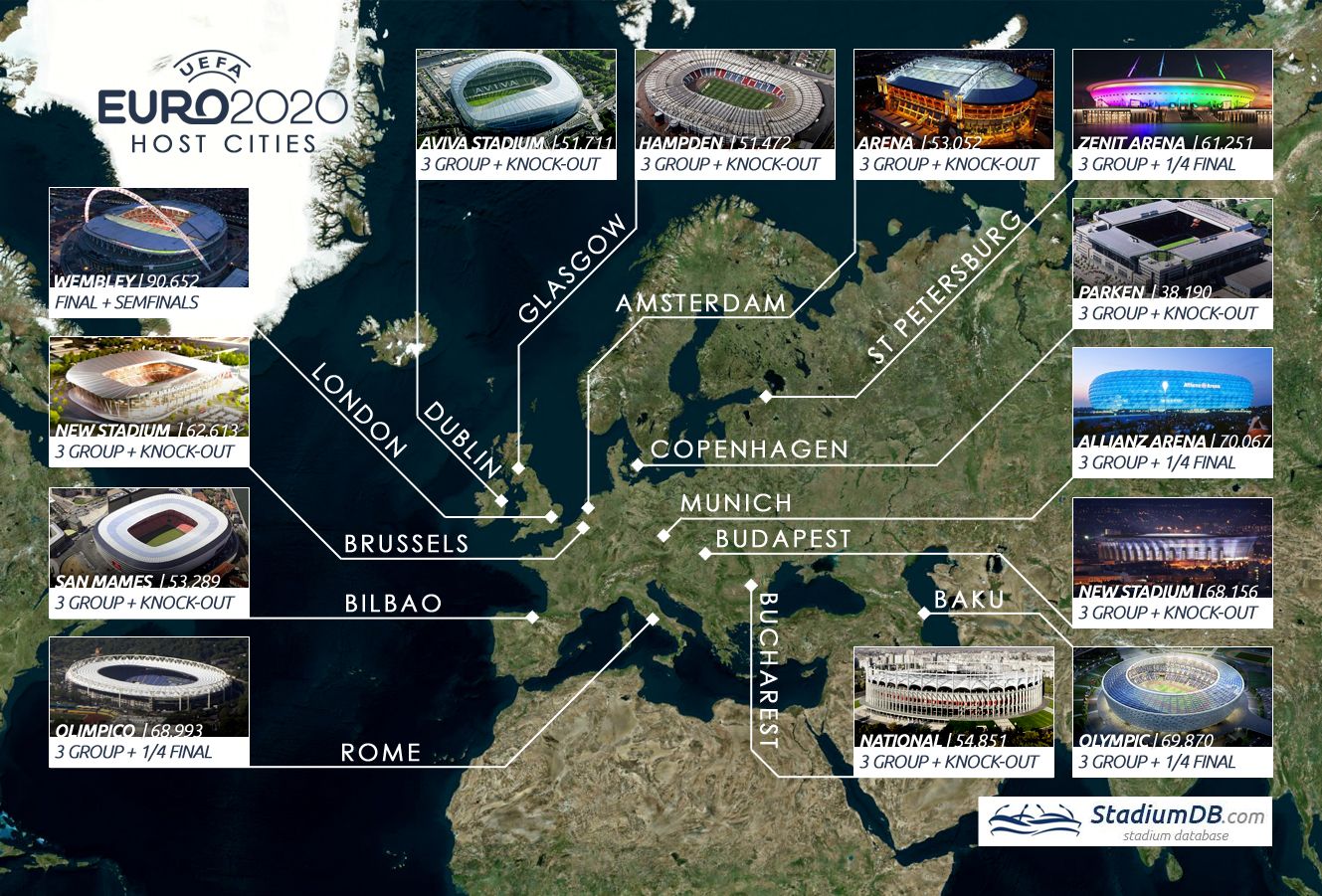 Click right and "save as" to download the full size map with host stadiums, capacities and match packages.
Whether the selection was by revenue possibilities or bid evaluation doesn't matter too much, because the latter was still primarily evaluating revenue possibilities of each bid. Below the complete list, along the UEFA lineup and declared capacities.
Final and semifinals
Wembley (90,652), London. There was no room for a surprise here, especially taking into account good relations between UEFA and the stadium's operating company. Wembley was given two Champions League finals in just 2 years and now was the only sensible candidate to hold three most prestigious games.
Quarterfinal + 3 group games
Allianz Arena (70,067), Munich. Officially competition for Wembley, unofficially a comfortable runner-up with the second most important role in the entire tournament. Allianz Arena recently held a Champions League final (the one between Wembley's two), so meeting UEFA's criteria was more than likely.
Olympic Stadium (69,870), Baku. After a very strong bid, this choice doesn't sound too exotic. The giant stadium is almost ready now, Baku promised incentives to UEFA and the only problem will be one for thousands of fans, who will have to find flights between Baku and London as their team progresses to semifinals.
Zenit Arena (61,251), Saint Petersburg. Speculated to be dropped by UEFA for political reasons, this host city was graded very highly during bid evaluation and is no surprise. The stadium will be ready next year and offers extremely impressive facilities.
Stadio Olimpico (68,993), Rome. A true veteran among the selected hosts, but also a city and stadium for some reason cherished by UEFA, despite severely falling well behind some of the competition. Ahead of Euro 2020 will need a major revamp, benefitting Lazio after AS Roma moves out.
3 group games + 1 knock-out game
Parken (38,190), Copenhagen. The only stadium of under 50,000 to make the cut. For some only a proof that UEFA was never intending to give the tournament to less developed countries. For others the rational solution: a smaller country may be awarded with hosting games, but only if the bid is well-prepared.
Stadionul National (54,851), Bucharest. Host to recent Europa League final was one of two strong contenders in Central Europe and the Balkans.
Amsterdam ArenA (53,052), Amsterdam. Despite minor flaws indicated in the evaluation bid Amsterdam was always one of the strongest competitors, especially with the ArenA's portfolio of events, also those by UEFA.
Aviva Stadium (51,711), Dublin. Held the Europa League final in 2011 and is one of the most modern stadiums in Europe, while the city also received much praise from UEFA.
San Mames Barria (53,289), Bilbao. In this case UEFA's opinion was surprisingly low about the city (lack of hotel rooms and insufficient airport capacity), but the stadium was ranked highly.
Nemzeti Sportkozpont (68,156), Budapest. The very largest stadium not given any quarterfinal game. While Budapest always seemed like one of the strongest bidders, the selection for only the lowest package may seem like a let-down for a nearly 70,000-capacity venue.
Nieuw Nationalstadion (62,613), Brussels. Belgian FA was one of the bidders feeling safe of grabbing one spot. Eager to hold the opening game, Brussels is now certain to get a new national stadium, concept of which we should know in January.
Hampden Park (51,472), Glasgow. The Scottish bid had some weak points, but overall Hampden Park enjoys a high level of trust by UEFA, who had already awarded this dated stadium prestigious games in the past (Champions League final in 2002, UEFA Cup / Europa League in 2009).
Didn't make the cut
With only six bidders more than the tournament host list, few cities were left out. One that may sound surprisingly is Stockholm, where the Friends Arena offers outstanding facilities. But this was also the very only bid, in which the government definitiely denied any support.
Millennium Stadium in Wales is suffering from its proximity to London, along many comments. Even UEFA suggested the city would need London's support in terms of airport traffic.
Remaining four bidders not selected for Euro 2020 were poorly ranked in the evaluation report: Minsk (Belarus), Jerusalem (Israel), Sofia (Bulgaria) and Skopje (Macedonia).