London: Tottenham confirm potential temporary relocation
source: Telegraph.co.uk; author: michał
Initially planned as a phased development allowing the use of White Hart Lane, Tottenham's new stadium may force a relocation for the club. Three potential temporary homes were named.
At a recent meeting with Tottenham Hotspur Supporters' Trust president Daniel Levy confirmed there is a possibility of leaving the home district temporarily. This has been speculated upon for weeks, now seems to be a very probable scenario.
Initial plan from 2008 envisaged similar scenario to the one in Spanish Bilbao, where 60% of the new stadium is being built directly next to the old one. In this scheme (drawn below) White Hart Lane would disappear only after Tottenham would be able to play at the incomplete new stadium. Then the remainder of the planned 56,000-seater would be delivered.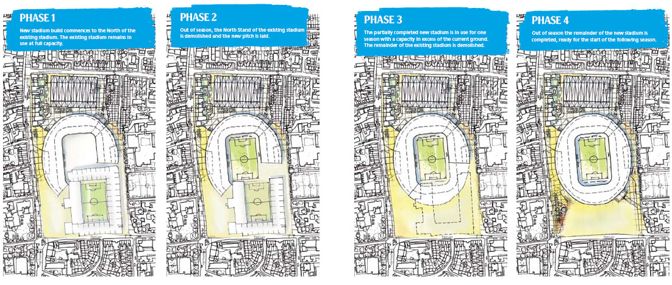 However, if the 2017 delivery time is to be met, the club may be forced to demolish White Hart Lane at once and build the entire new stadium in an attempt to save time.
The club chairman also warned that the projected completion date of 2017 could be forced back unless Eric Pickles, the Secretary of State for Communities and Local Government, swiftly settles on a resolution to a public inquiry that opened last April.
Speaking to the supporters Levy named three potential options. No surprise, local derby rival Arsenal's ground isn't on the list. The three are Wembley, Olympic Stadium and Stadium mk in Milton Keynes. It's possible that the club would rotate between them depending on availability and demand (capacities stand at 90,000, 54,000 and 30,000, respectively).