Nigeria: National Stadium changed into a brothel?
source: PunchNG.com; author: michał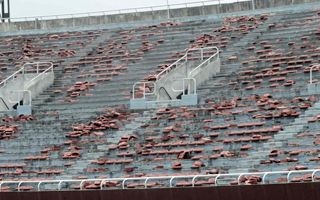 A dilapidated ruin of a stadium by day, a brothel by night – this image of the old National Stadium in Lagos was revealed by The Punch. Forgotten by authorities, the stadium began a new life.
The centrally-located National Stadium in Lagos was opened in 1972 and since then has been dilapidating. It may have hosted great events in the past, like the 1980 African Cup of Nations final, but today it's almost a ruin. Not the concrete structure itself, but almost all equipment and furnishings need to be replaced if it's to be used again for sports.
The main stand's roof has huge holes, thousands of seats were ripped out, furniture destroyed or stolen, the vast training facilities under stands deserted. Or not quite as deserted as they may seem.
Boxing promoter, Martins Osaile, has lamented the state of the National Stadium, Lagos, saying it has turned to a home for prostitutes. He said, "The National Stadium, Lagos has been turned to a brothel. Someone there built rooms all around the place and it is prostitutes patronising the place.
"They (officials) know about what is going on but they don't care because they hire the place to people. All the under of the steps (of the main bowl) have been converted to small rooms, where they practice prostitution."
While Osaile's story is very one-sided, many reports can be found online that suggest it may be entirely true. Almost anyone can enter the stadium and by day some vendors do their trade. By night the story may be completely different.
It wouldn't be the first time that lack of maintenance led to ruin. The new National Stadium in Abuja was in 2012 found by The Punch reports to be overtaken by nature – weeds and even small trees were growing inside, while wild animals were wandering around what was a $350 million stadium opened in 2003.
After The Punch's report authorities cleaned the place up moderately, still seeing severe problems with field condition. Then in March 2014 19 people were killed at that very stadium, when authorities completely failed in controlling thousands of job applicants. Surprisingly to some, interior minister Abba Moro said arrogantly the people should blame themselves for being impatient.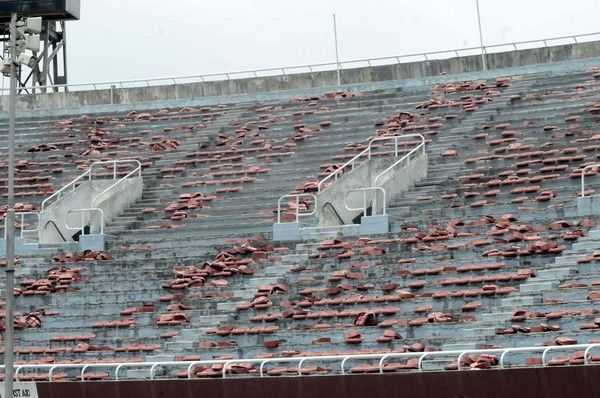 Photo: Footyblast.com