Nigeria: Tragedy during recruitment in Abuja
source: StadiumDB.com; author: michał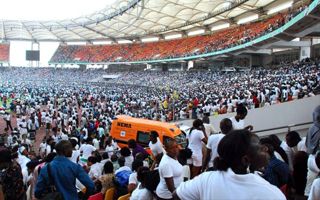 Catastrophic scenes unveiled yesterday at Nigeria's national stadium in Abuja. At least 19 people were killed, dozens are injured, some critically. Interior minister claims they should blame… themselves.
Yesterday's nationwide recruitment day for the Immigration Office of Nigeria turned into a tragedy in Abuja, the country's capital. Hours before the event started, around 7am, the national stadium already had over 50,000 applicants inside. Dozens of thousands were still outside.
With only one gate open to allow people inside, the wait was long. Each applicant was subject to a 1,000 naira entry fee ($6). Once inside, people were taking seats in all sections of the stadium, awaiting for immigration officers to hand out aptitude tests.
Once some of them emerged with hundred of paper sheets, people rushed to get their copies. This is reportedly when the stampede took place. First confirmed report claimed there are 7 casualties, but with each further release the number is rising, currently thought to be 19 (with one woman pregnant).
Dozens, maybe hundreds of people are injured, some critically. Closest hospital was unable to accept most of the wounded, treating many people on the ground in front of the building. Later many were either transferred to other hospitals or advised to go there, if able.
The dramatic rush for application forms is widely explained by very polarized economic situation of Nigerian citizens. While the country's economy is blooming thanks to natural resources, more than half the 170-million population live for $2 a day or less. One out of four are unemployed, especially young people.
The situation is well depicted by a statement from one of the injured applicants. Rosemary Ogida told French Press agency AFP that she was stamped on by many people. While she could barely move her left leg after regaining consciousness, her biggest worry was the loss of her university diploma, which will affect her chances of finding a decent job.
Meanwhile the Interior Minister showed little compassion for those in attendance at Abuja's largest stadium. Abba Moro said, "The applicants lost their lives due to impatience; they did not follow the laid down procedures spelt out to them before the exercise".