Stadium and design: Upcoming relocation for Cambuur?
source: StadiumDB.com; author: michał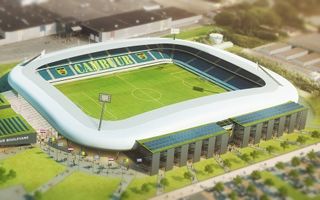 They've just been promoted to Eredivisie first time this century. And already half a year later SC Cambuur have very solid plan of building their new stadium and remain a competitive top flight club.
SC Cambuur aren't a much honoured club, reaching the Eredivisie three times is their biggest achievement. Still, the club enjoys a very significant popularity and sees very decent attendances.
Already while competing in the second league, they had streaks of sold out games and their 10,000+ stadium was one of the biggest in Eerste Divisie. No wonder they now sell out regularly and need capacity increase fast to make best use of the momentum.

While their current mid-table position seems safe, the club is determined to reach their next goal – a brand new stadium – even if relegation comes their way. The plan was announced already in November last year, when SC Cambuur teamed up with their sponsor, construction and design company Dijkstra Draisma.
The company is now expected to take the role of architectural consultant and partner in stadium development. Just yesterday the two reached an agreement with the city and are about to deliver a feasibility study for the new stadium.
Capacity is expected to rise by 50%, which is an ambitious, but reasonable perspective. Budget should stay within €25 million, though no financing details were released thus far.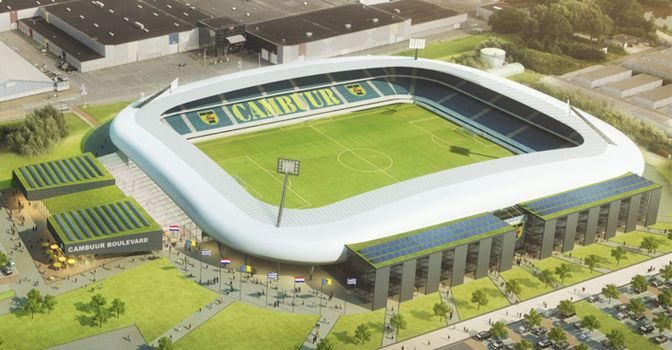 Another information still anticipated is the final location of the stadium. It may replace the current Cambuurstadion, but the first released rendering suggests building it on the other side of the city, near the western WTC Expo complex. These two aren't the sole contemplated spots, though.
Construction should start next year and last until mid-2017. With this goal reached SC Cambuur hope to become a solid addition to Eredivisie. Financial boost will be very significant, annual stadium revenue may reach €15 million.
To optimize the use of new facilities, the stadium will be equipped with solar batteries and other energy-efficient and sustainable solutions. At the same time secondary commercial functions are also planned.