Poland: Two projects (re)launched in Łódź and Zabrze
source: StadiumDB.com; author: michał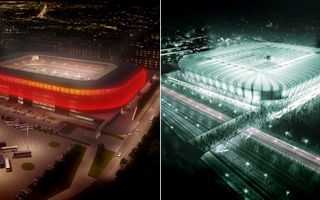 This week brought major developments regarding two new stadiums in Poland. Construction is expected to restart in Zabrze, while contractor should soon be known for Widzew Łódź new ground.
Last weekend the Tenders Electronic Daily saw first big tender launched regarding Stadion Ernesta Pohla. StadiumDB.com readers may remember that the project was halted after previous contractor had to be sacked for immense delays in late 2013.
With three new stands for over 24,000 seats already standing, the stadium needs relatively little work to see the first phase delivered. After stocktaking finished on the construction site, the municipal Stadion w Zabrzu company decided to launch several separate tenders instead of just one to ensure swift delivery.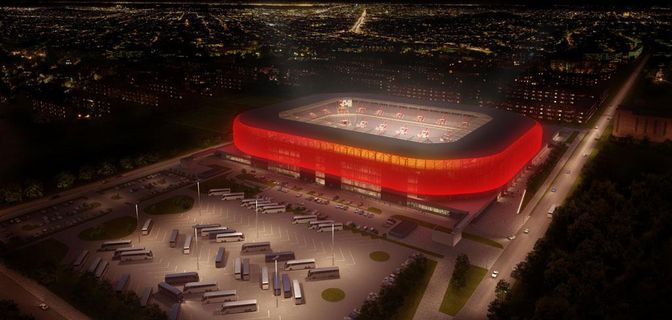 On Saturday the first tender was launched, concerning the roof cover. While the primary steel structure is in place, polycarbonate and tinware sheets have to be installed atop. The order's conditions emphasize price (60%) and reducing delivery time (40%) as only criteria.
All offers will be disclosed on April 23 and after contract is signed the winning bidder will have up to 3 months to cover the stadium. More procedures for other remaining infrastructure are expected shortly.
Meanwhile on Monday the city of Łódź saw the long-awaited tender for Widzew's new stadium launched. The municipality expects to announce the winning bidder in late April, after 40 days.
However, the stadium will hardly resemble renderings presented by Widzew in 2011. Due to numerous cost-cutting measures the 33,000-capacity future stadium has been reduced to 18,000 with one end open for future expansion. Final design will also depend on the bidders as Łódź managed to secure less than half of the original budget.
Planned to cost PLN 329 million in 2011 ($107m / €77m), the project's budget is now set at just PLN 170 million ($56m / €40m). This amount includes PLN 40 million for amending road infrastructure around the stadium. That leaves very little for a quality stadium, but authorities assure that the contractor may deliver roads cheaper and then assign remaining funds to the stadium.
Should all procedures go well, construction of the new stadium will start in July, maybe August this year. While it's good news, the tender comes at an unfortunate time for Widzew. The honoured club is last in the table of Ekstraklasa and is almost certain to be relegated. The 2014/15 season will have to be played in a neutral venue once construction reaches full swing, further limiting matchday revenues.