New design: Sport Park Częstochowa
source: StadiumDB.com; author: michał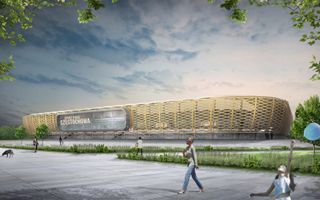 You most probably don't know this club, perhaps even have no idea where its home city is. But Raków Częstochowa want to emerge as a solid top-tier club of Poland by 2021. And this stadium is supposed to help them.
Not long ago drowning in debt and barely staying afloat. Now stabilized and ambitious – Raków Częstochowa has revamped its crest and created a long-term plan of reaching and remaining in the Ekstraklasa, Poland's top flight. In 2021, when the club's centenary comes, they hope to be one of top 7 clubs in the league.
That plan was presented on Thursday along with the idea of a new stadium. Just like the promotion plans (reaching 2nd tier in 2016 and Ekstraklasa in 2019 at the latest), this vision is very detailed already.
Suggested first time in November, the 15,000-capacity arena would be located in Lisiniec, just west of the heart of Czestochowa. Its first rendering was just presented. This would be a crucial change for Raków, because the club has spent over 90 years in the southern outskirt Raków, from which it took the name. No longer local, Raków hopes to become the club of all Czestochowa citizens.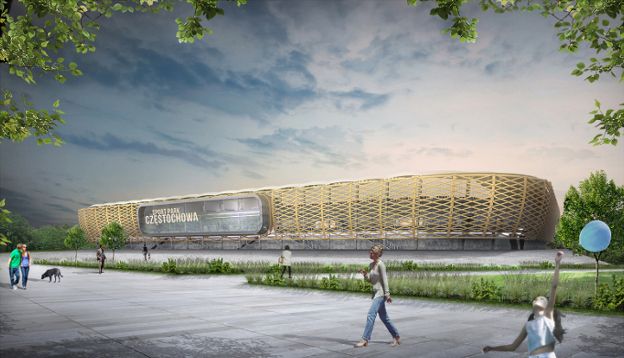 Image: RKS Raków Częstochowa
The indicated location lies in Lisiniec Park, an underdeveloped public green site with the potential of becoming a major leisure hub. Building the stadium would serve as catalyst to make that happen. Its sole name – Sport Park Częstochowa – suggests other facilities would surround it to attract the community not only on matchdays.
Most important number is that on the price tag, because building the stadium would depend solely on public funding. With the Czestochowa municipality signaling insufficient resources, Raków decided to look for cost-effective solution in what seems the best place – East Germany.
New stadiums meeting basic needs are built there for some €20 million, holding between 10,000-15,000 people. The new ground for Raków is thus mimicking Audi-Sportpark, ERDGAS Sportpark or the new Chemnitz stadium and priced at just €14 million.
Though it seems to be a very optimistic estimate, the municipality is surprisingly also optimistic. Present at the presentation on Thursday, Czestochowa deputy mayor Jarosław Marszałek assured the scheme makes very good sense.
"Determination of the club, not only on this subject, is simply stunning. I'd like to have as much energy myself. And I have to admit that despite initially being skeptical about the Lisiniec stadium, now I'm entirely convinced by what I've seen. It definitely makes sense!", Said Marszałek enthusiastically.
Of course the this doesn't mean Czestochowa will amend the municipal budget for 2014 and find even a small part of the required amount. But within the next few years a phased development seems entirely viable financially.