Sofia: Germans tempting CSKA to move to Slavija?
source: Novinite.com / StandartNews.com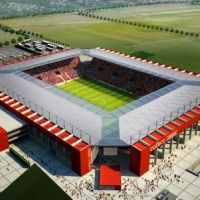 Despite CSKA's previous rejection of the proposal, German company IFS is determined to have a new stadium in Sofia up and running by 2015. But even if they succeed in getting CSKA as one of key tenants, will this stadium be enough for Sofia's aspirations?
It was in September that we've seen tensions in Sofia over the potential groundshare between Slavija and CSKA. The latter club initially refused to move outside the city centre, causing Slavija's official calling them 'pathetic'. But, apparently, the offer is again valid.
It's not Slavija who are interested in building the new stadium, though. It's German IFS, who have been responsible for sports and entertainment venues in Europe, recently focusing on new markets in Eastern Europe. The company takes part in Budapest's new stadium for Ferencvaros and wishes to run a similarly sized project in Sofia.
The 25,000-capacity ground would be located in Ovcha Kupel, on the site of Slavija's current stadium, and would cost some € 35-40 million. IFS are hoping to close preparations within next six weeks and have the stadium ready in 2015. The news was released during the project's presentation in Sofia's Radisson Hotel.
An interesting aspect of the project is the involvement of the Bulgarian Football Association. The FA recently confirmed interest in hosting Euro 2020, but at the same time is a client of IFS for the new 25,000-seater, which would be too small to even apply for the event (a minimum of 30,000 is set).