Bulgaria: CSKA Sofia rejects proposal to relocate
source: insideworldfootball.com; author: michał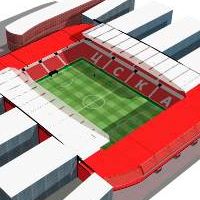 Private investor aims at building a new stadium in Sofia, but needs two clubs to share it. As CSKA was approached about a potential deal, the club rejected any contract of the kind.
German IFS, subsidiary of global stadium operator IMG, plans to build a new stadium in Sofia. The city is a growing entertainment market that has so far been undeveloped. The stadium would be located in Ovcha kupel, a south-western district near the outskirts of the Bulgarian capital.
It would replace the current stadium of Slavija, but the host club needs another football team to share it with. CSKA Sofia has been thus approached, but rejected any possibility of such deal. "We refused because the stadium will be in the Ovcha kupel district. No one of our supporters would agree to move the club there," said the CEO of CSKA Sofia Alexander Todorov in interview with Standart Daily.
Important part of the plan is for each of the new host clubs to give their current stadiums to the investor in return for getting a new, modern home. With CSKA's stadium being in the centre of Sofia, the proposed deal may have been controversial, should IFS plan to replace the Bulgarian Army Stadium with commercial outlets.
Still, the president of Slavia, Ventsislav Stefanov, expressed disappointment at Todorov's poition, saying: "The idea of the company is for the stadium to be shared by two clubs. The desires of CSKA are downright pathetic! I can tell you that CSKA is trying to bully seriously IMG, but the people just want to invest. They (CSKA) are only interested in how much money they will receive. They will get €5 million per year if they play at this stadium. This is for the good of Bulgarian football."