London: Tottenham to move to new stadium for 2016/17 season?
source: Goal.com; author: michał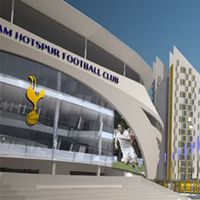 It's been a long time since we've had anything solid about the groundbreaking of the new stadium adjacent White Hart Lane. Now Goal.com informs that construction should start by June 2014, allowing Tottenham to use first stands in mid-2016.
Groundbreaking in first half of 2014 and first three new stands opened for the public after two years, in time for the 2016/17 season. Entire new stadium ready in mid-2017, after White Hart Lane gives way to last sections of the new ground.
This scheme largely comparable to plans implemented in Spanish Bilbao has been planned for a long time, but without much detail. That's why Goal.com's time frame is first piece of solid information for a long time.
The website informs that recent cooperation of Tottenham with Populous shouldn't negatively impact the project, despite changes are expected in the 2008 vision of KSS Architects.
The first phase of the Northumberland Development Project started last June, with a Sainsburys supermaket scheduled to open to the north of the new stadium site next year.
The £400 million project will mainly be financed by a front-loaded naming rights deal, with the club continuing to hold talks with a number of potential partners in the Middle East, Far East and the United States.
Tottenham are owned by Bahamas-based billionaire Joe Lewis, who is ready to guarantee bank loans for the stadium construction, while a £17m funding agreement was agreed with London mayor Boris Johnson in 2012.