London: Tottenham to abandon their stadium design?
source: Standard.co.uk; author: michał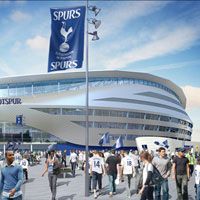 Just like fans of the club, we're surprised to read in The Standard that Tottenham Hotspur assigned Populous to rethink the concept of the new 56,000-seater stadium. It is understood that a varying design may be expected.
Initial renderings of this concept were released back in 2008. Since then the club has been working closely with KSS Architects to deliver a modern stadium. Supporters were brought aboard to discuss and influence the project, resulting in a single-tiered 'Kop' stand, improved acoustics and stands being put as close to the field as possible.
This is why many fans are anxious about new revelations that put Populous architecture practice in talks with Tottenham over possible changes to the concept.
Tottenham season ticket holder and contributor to The Fighting Cock podcast Ricky Feegrade said: "It's frustrating. The fans were on board with the current designs as they took into account that fans want to be close to the action and the acoustics of the stadium.
"Bringing in Populous does not fill me with much hope - stadiums like Wembley, the Emirates and the Olympic Stadium are not known for having a buzzing atmosphere and are very corporate and soulless."
The move is also a blow for KSS, who designed the club's state-of-the-art training facility that opened last summer.
Chairman David Keirle confirmed: "The club have appointed Populous and are looking at other stadium options. We are still working with the club on other projects, but the club wants to take another look at things".
A club spokesman confirmed: "We have approached Populous with regards to an internal fit out of the stadium."
Currently work is ongoing on a new supermarket near White Hart Lane, the very first phase of the Northumberland Development Project, of which the new stadium is part.