New stadiums: Gniezno twice, Słupsk and Pobiedziska
source: StadiumDB.com; author: StadiumDB.com team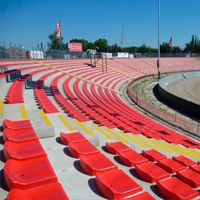 Smallest one is located right on the lakeside, while two stadia from Gniezno are of some significance for domestic speedway and football tournaments. Here are four new presentations!

Photo: Wojtek Skalski
Early days of the stadium date back to 1929, when the first stand was raised, but until 1950s the ground had no racing track. That feature was built with large volunteer contributions by local industries and citizens.
Today the stadium with floodlights (used first here in 1960s) is an all-seater with a modest main grandstand in the west and land-supported stands encircling the track almost completely.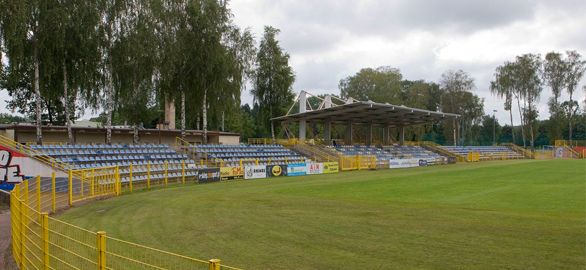 Photo: Adam Szyszka
Located on the corner of Zielona and Słoneczna streets, the stadium built in 1925 in Southern Słupsk was the first one in all of the Pomeranian region to have a covered grandstand. Back then it was still part of Germany and beared the name of Joachim Albrecht.
After WWII it became part of Poland and went through only a handful of renovation works, most notably in 1960s and 2004. Apart from hosting games of Gryf it also played host to two youth national team games of Poland (1977, 2004) and one of the female squad (2005).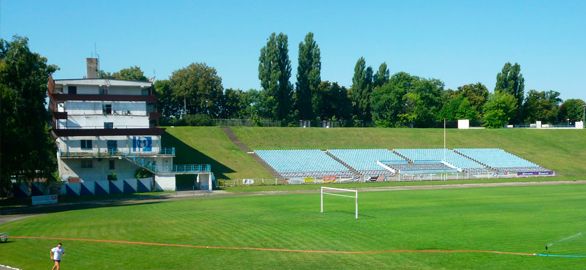 Photo: Sebastian Spychała
Erected in 1974, the central stadium of Gniezno and home to football side Mieszko was built largely in a sunken bowl. With its massive western slope providing a 'kop stand' of unique proportion in Polish football, the stadium was thought to accommodate some 8,000 people.
That number was almost doubled in 1989, when Mieszko reached for the biggest success to date, getting through to Polish Cup quarterfinal and losing to Legia 0:5 in front of 15,000 people.
Today's stadium is just a shade of that great history with just minor sections along the pitch being renovated and equipped with over 2,000 seats.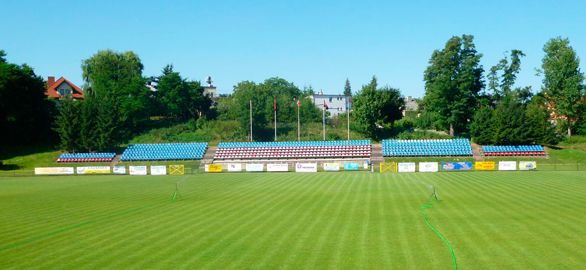 Photo: Sebastian Spychała
Located just south of the lovely Biezdruchowo Lake (waters of which can be seen right behind the north end) the Pobiedziska municipal stadium serves the local club Huragan on day-to-day basis, but it also received some coverage with live broadcasts of two U19 Euro games in 2006.
West side is dominated by land embankment accommodating 713 people, while to the east the main club building with a modest covered grandstand are located.