South Africa: More details on massive collusion before 2010 World Cup
source: SAPA / enca.com / IOL.co.za; author: michał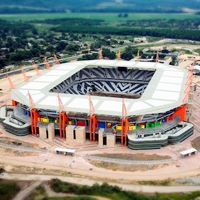 Competition Commission revealed that the country's biggest contractors agreed to share contracts ahead of the 2010 tournament on condition that each of them would earn at least 17.5% on their works. This led to giant inflation of costs for municipalities.
While some residents still have no access to sewage, some 2010 World Cup stadia had cost more than similar structures in less troubled countries. Now the Competition Commission revealed part of the reason for this tendency, subject to public outrage.
The CC released information that prior to largest projects starting, back in 2006, leaders of the largest construction companies met and agreed to 'split' contracts between one another so that everyone earns at least 17.5% of the value.
WBHO, winner of the Cape Town Stadium tender, shared the value of their bid with competition to assure that others prepare less attractive offers. Similarly, Grinaker LTA, contractor for the Soccer City, revealed their offering for the works and were granted the job after others showed worse bids.
Overall the process included 15 companies, 7 of them leading the market. Among other projects affected by the collusion were 6 (not 5, as suggested before) stadia of the tournament, in Cape Town, Johannesburg, Durban, Polokwane, Nelspruit and Port Elizabeth.
The Competition Commission charged the guilty companies with fines totaling at ZAR 1.5 billion (€115m / $150m).