South Africa: Cities to demand massive compensations for rigged stadium tenders
source: AP; author: michał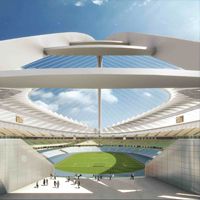 At least five cities are considering legal challenges against contractors rigging their bids and inflating stadium cost for own gain. In the case of Cape Town even 30% of the stadium budget may have been charged wrongly, according to Associated Press.
The South African Local Government Association informed on Thursday that at least five host cities of the 2010 World Cup are considering legal struggle to get some of the expenses back. The information comes after more details come out about contractors colluding to inflate stadium cost.
The cities in question are Johannesburg, Cape Town, Durban, Port Elizabeth and Polokwane. Cape Town Stadium is one of the most criticized projects of the tournament, being the most expensive, yet far from largest. Now SALGA claim its cost may have been wrongly inflated by even 30% ($220m / €170m), while similar fraud in Johannesburg may have sucked further $61 million (€47m) out of the taxpayers wallets.
The potential claims follow a larger investigation by the Competition Commission, where 15 companies agreed to pay a total of $147 million in fines in a fast track settlement to avoid prosecution for "rigged" projects in South Africa between 2006 and 2011, which include World Cup work.
One of the construction companies fined, WBHO, said the only way to guarantee to local World Cup organizers in 2006 that the stadiums could be built on time was for "the larger construction companies to meet."