England: Stoke City offer free transport to every away game in 2013/14!
source: StadiumDB.com; author: michał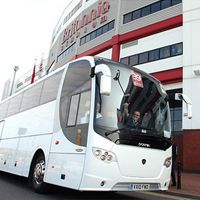 This kind of initiative isn't new for one or two matchday trips, but all season? That's a first for any English club and – to our knowledge – this goes for every other country, too. Stoke decided to give more to the fans and are willing to take them everywhere for free.
It's no secret that Premier League secured a record-breaking TV rights contract in recent months. £5.5 billion over three seasons will boost club budgets and many supporter representatives argued that clubs should use this to ease the fans.
Football Supporters Federation even estimated that even cutting each ticket's price by £50 wouldn't make any difference for club budgets with the injection from TV rights. This would effectively lead to many tickets being given out for free.
Of course this is only theory, but one that shows how much revenue English clubs get. Still, most of them continue to go the opposite way and still increase entry prices. Ahead of the new campaign only a few made cuts in what already is the world's most expensive league.
Taking all the above into account, it may raise some eyebrows that Stoke City FC haven't increased their season ticket prices since 2008. This despite having a 97% sell-out rate for every game and plans of expanding the ground.
Now the club goes a step further and offers free transport to all 19 away games in the 2013/14 campaign. Chief Executive Tony Scholes said: "As a club we are conscious that following football can be an expensive business, especially at a time when so many people are feeling the squeeze financially.
"We work hard to try and provide our supporters with value for money which is why we have not increased our ticket prices since being promoted to the Premier League in 2008.
Stoke are known for their moderate away following and even worse record on the pitches other than that of Britannia Stadium. This makes an attempt to improve a reasonable one, but still very unexpected. No other team in England and, to our knowledge, anywhere else as well has ever done this much for the faithful away travelers!