London: Supporters protest against ticket (over)pricing
source: StadiumDB.com; author: michał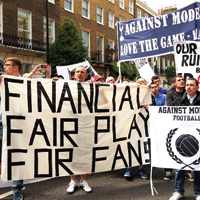 Average price of the cheapest season ticket for 2013/14 Premier League grew once again and stands at over £500. Overall, entry fees have gone up by whopping 718% since 1989, when the reform of English football began ahead of Premier League's establishment.
Supporters association from Liverpool, the Spirit of Shankly, organised an impromptu demonstration in London yesterday, which was joined by fans of some 40 other clubs. With banners and smoke bombs supporters marched to the Premier League's headquarters, protesting the ever-growing ticket prices.
Yesterday's march ended with supporters representatives meeting Premiership officials, but it seems little if no solid outcome was reached. A statement from the league afterwards speaks of encouraging proper pricing:
"While it is for individual clubs to set their ticket prices, we agreed with the group that we would further encourage stretch pricing at our clubs in order to make Premier League football available to a wide range of supporters".
The demonstration comes just after the Premier League secured a stunning TV rights deal of over £5.5 billion over just three seasons. With such an increase in income, clubs could have even drop all of their entry fees by £50 (which would mean giving many seats away for free) and still see no fall in their revenues overall.
Still, most teams went the other way, raising the price once again. Record of the 2013/14 season belongs to Crystal Palace, who inflated their cheapest season ticket by 19%, while Manchester City and Tottenham went for an 8% increase. Cheapest season ticket for the upcoming campaign costs £508 on average.
Overall, since 1989, ticket prices are now 718% more expensive, which goes highly over the inflation levels over past decades. As a comparison presented by fans, average pair of Adidas trainers would have cost £320 (€375, $495) – nowhere near actual levels. But at 95% sell-out rate of PL stadiums and many season ticket waiting lists, clubs can still price many people out without losing crowds.