Moscow: FIFA to seal Luzhniki's fate?
source: RUVR.ru; author: michał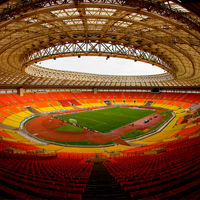 Russia's largest stadium will either be redeveloped or demolished completely. All hangs on FIFA's capacity expectations, which Moscow authorities consider to high and expect more flexibility.
Vice-mayor of Moscow Marat Khusnullin visited Rio de Janeiro recently to meet with FIFA's executives and discuss the city's largest stadium, Luzhniki. This venue is due to host the 2018 World Cup final, for which FIFA expect it to hold 89,000 people.
Yet Moscow authorities find this inconsistent with needs and emphasise, that such a size wasn't demanded even from Maracana, the largest stadium of 2014 World Cup and final game arena.
Vice-mayor spoke to The voice of Russia about his doubts regarding capacity requirements. The opinion of Moscow architects and authorities is that creating stands for 89,000 people would require completely destroying the current stadium. However, should FIFA show tolerance and accept lower number of spectators, new stands might be incorporated into the historical monument, that the current ground's external walls are.
Decision on this matter is expected as soon as July 8, which would mean authorities have 4 years to deliver the selected project.