Rio de Janeiro: Maracanã's revival game was hanging by a thread
source: Sky.com / Guardian.co.uk; author: michał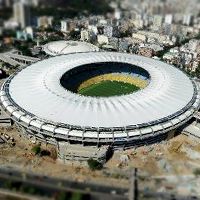 The famous stadium in Rio was yesterday ruled unsafe to host the kind of game that is planned for Sunday. Brazil-England friendly will take place, though, as today state authorities managed to get the safety certificate required.
Despite being set for June 2 for months, the Brazil-England friendly was literally hanging by a thread yesterday, as Rio de Janeiro court ruled the Maracanã isn't in a state to host such a game at this point.
"At this moment we have no news that the restrictions were amended to a level of safety that would be expected at this stage," Judge Adriana Costa dos Santos said in a statement.
"Therefore, due to the laziness of the people responsible, in this case, the defendants, we cannot allow the ­stadium to be re-inaugurated without proof that it is safe and hygienic."
This caused cries of outrage in the media as once more local organizing committee failed to satisfy all expectations and was criticized for delays in preparation works. However, today the required safety certificate was finally issued, allowing for the Sunday match to take place after all.
Works are ongoing around the stadium and will not end in time for the 2013 Confederations Cup, due to begin 2 weeks from now.