New designs: New Falcons Stadium according to 360 Architecture
source: StadiumDB.com; author: StadiumDB.com team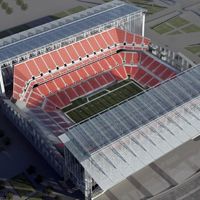 You've seen stadiums with retractable roofs, you've probably seen those with mobile walls, too. But have you ever seen a building that completely opens up, revealing stands for 65,000 people? Well, you're just a click away now!
As we informed you previously, the new Atlanta Falcons stadium is expected to be built near the existing Georgia dome, in downtown Atlanta. Recent weeks have seen authorities selecting architects. After first round of negotiations five finalists were left (EwingCole, HKS Architects, Populous, 360 Architecture and a joint venture of Tvsdesign, Heery International and Gansler).
On April 29 a vote showed unanimous support for the two visions presented by 360 Architecture. And presenting them to you now, we think we know why the support was unanimous.
Of course both of the concepts are only a guide towards what may and may not be done eventually, the final design may differ. What shouldn't differ is the budget set at just under $ 1 billion and capacity at some 65,000.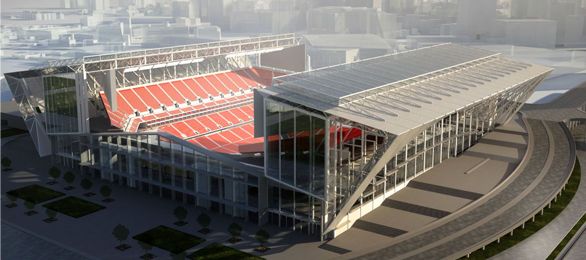 Img: 360 Architecture, GWCC
Just as the name suggests, this one has a lot to do with the sun. When closed, the stadium resembles a greenhouse with the amount of sun let inside through transparent and translucent elements of the cladding.
But when opened the stadium is really opened – not only does it include retractable roof segments, but the entire roof and facades are mobile, allowing to create a first ever almost completely open stadium from a dome.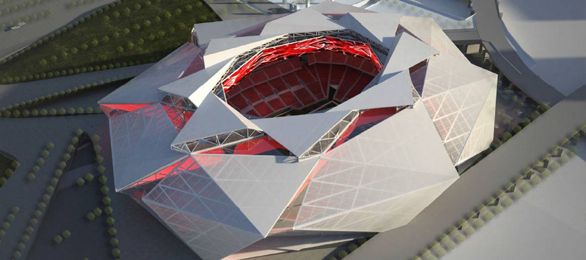 Img: 360 Architecture, GWCC
Connection with the Roman Pantheon is no accident here – independent petals of retractable roof structures may slide to create either a closed dome or a circular skylight above the centre of the field, just like in Rome. Of course each petal may also be located on the permanent roof to give the feeling of a regular stadium with only stands covered.
A unique feature of the stadium is the panoramic screen surrounding internal perimeter of the roof and allowing for every fan inside to see what's televised.