Brazil: Maracanã 'privatised', again with controversy
source: BBC.co.uk; author: michał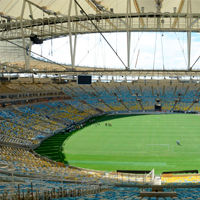 Billionaire Eike Batista grabs 35-year tenancy over Brazil's most famous and largest stadium. Competition argues his partners had unfair advantage, while other are still outraged that the stadium is 'given away' to private companies for free after having spent over $557 million of taxpayers' money.
Joint venture of IMX (company established by billionaire Eike Batista), Odebrecht (Brazilian construction giant) and Anschutz Entertainment Group (global venue operator from Los Angeles) won 35-year operation contract over Maracanã.
The defeated bid was led by rival Brazilian building company OAS, the French company Lagardere and Stadion Amsterdam.
Now competition argue that winners had unfair advantage, because IMX carried out the entire viability study for the procedure, while Odebrecht was the company to rebuild Brazil's cult stadium.
However, Rio de Janeiro state authorities argue everything was kept within legal constraints.
The selection fuels even more controversies around the redevelopment scheme. Maracanã is listed as national heritage monument and was seen by many as such until the ongoing reconstruction.
Now not only did authorities spend over $557 million of taxpayers' money just to give the stadium 'for free' to private companies, but also demolished a local school, indigenous museum, smaller public stadium and indigenous people's houses to make way for commercial needs.