Brazil: Judge suspends Maracana's 'privatisation'
source: BBC.co.uk; author: michał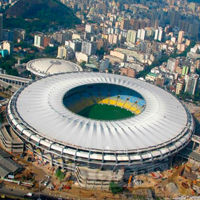 Prosecutors agreed with lost bidders that Rio de Janeiro state may have broken the law, by choosing the very same company for future stadium operation, which prepared the entire viability study for the procedure.
Judge Gisela Faria ruled there had been irregularities in the bidding process, which was announced to end on Thursday with IMX, AEG and Odebrecht taking over at Maracana for the next 35 years. Losing bidders from Europe argued that winners had unfair advantage, since IMX was the company to produce viability study for the process.
"Even before the bids were put forward, the principle of fairness among the competitors had been disregarded," Judge Faria said in her ruling.
It will now be subject to court ruling, whether the decision by Rio de Janeiro governor will be kept in force or overturned.
Also, prosecution argue that secondary athletic stadium and swimming pool may have been demolished without a real need for such a move, limiting the complex's leisure and sports function to increase its commercial potential.