Brazil: Corinthians supporters entered the stadium despite empty-stands rule
source: sports.yahoo.com/blogs/soccer-dirty-tackle; author: michał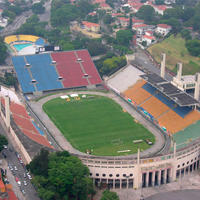 After fatal accident in Bolivia, Corinthians were ordered to play in front of empty stands. However four fans challenged the decision in court and won themselves entrance to the Pacaembu.
With the tragedy in Bolivian Oruro being examined, CONMEBOL imposed a penalty on Corinthians, forcing Brazilians to play one match with empty stands and banning their following from all remaining away fixtures.
Wednesday's game against Columbian Milonarios wasn't completely closed, though. Four fans appealed about the punishment being injust, using collective responsibility against innocent people. Court agreed they deserved to see the desired match.
However, more fans ddn't follow suite as most of them accepted the punishment. Largest fan association, Gavioes da Fiel, agreed to the punishment, representing their 97,000 members. CONMEBOL's decision wasn't further challenged due to severity of the incident in Bolivia.