Bolivia: Young boy killed by flare at Copa Libertadores
source: StadiumDB.com; author: michał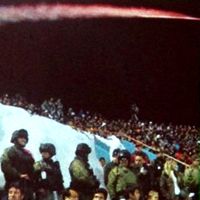 Shocking incident took place on Wednesday night in Bolivian Oruro, where local San Jose were facing Brazilian Corinthians. A ginal flare rocket was launched from the away section and hit a 14-year-old boy in the face, causing his death. Police arrested 12 people so far.
This game won't go into history books for its result (1:1), but the devastating incident, apparently caused intentionally by one of the away supporters. Early into the game, as Corinthians fans were unfolding a large banner over their heads, a signal flare was launched.
The rocket flew rapidly into the home sections and hit Kevin Beltran, a 14yo, causing his death.
So far 12 people have been arrested, but no-one was charged with committing the crime yet as interrogations are under way.
Media analysis suggests that the whole deed was planned – rocket was launched just before the banner reached perpetrator (perpatrators?), who immediately took cover under the flag and then most likely ran out of the crowd. Other fans immediately took the flag down, noticing it was used as cover.
The Bolivian side announced a week-long mourning, while CONMEBOL imposed a one-match ban for any spectators on Corinthians. This surely isn't the end of consequences. Corinthians initially claimed this must have been a tragic accident, but videos show that the flare was from the very start pointed towards home enclosure.
Bolivian media emphasize that it wasn't the kind of pyrotechnics used during local games. Contrary to how some news agencies try to simplify the case, this was not a flare seen at many European or American stadiums, it was clearly a rocket - launched, not thrown.
This is the kind of pyrotechnics avoided by vast majority of fan groups as it caused deaths in the past already. In 1992 a boy was killed in Barcelona, on his first game. In 1983 another rocket was launched towards away section at La Bombonera, killing a Racing supporter, after it shattered his throat.