Romania: More new stadiums? Time for Craiova and Suceava
source: GSP.ro / Gandul.info; author: michał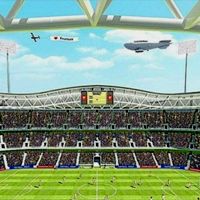 Authorities in Craiova remain determined to bring a new stadium to the city and even raise the ambition to 38,000 spectators. Meanwhile in less known Suceava a private partner may build the much needed stadium.
Romania remains an exceptional case throughout Balkans of sports infrastructure redevelopment. Recently four new stadiums were built or redeveloped completely, including Bucharest, Cluj-Napoca (both for CFR and Universitatea) and Ploiesti. Now further cities look forward to bringing new quality to their stadia, with the likes of Timisoara to start with.
Fresh start for Craiova?
Municipal authorities in Craiova have already announced plans to tear down current Ion Oblemenco stadium in November and replace it with a 32,000-capacity new one. Though it's already two months after the expected demolition date, municipality expressed its determination to carry out the plan in recent days, presenting a new, more ambitious vision.
Now the new stadium is to hold 38,000 people on at least two tiers, with 40 skyboxes envisages as well. Its outer shell is to resemble renowned egg sculpture of Constantin Brancusi, famous abstractionist born near the city.
Source of the ambition may come from chances that even 98% of the cost will be covered from European Union development programs. Budget is expected not to exceed €100 million.
Public-private for Suceava?
Meanwhile in the city of Suceava a private partner came along, offering to build a much needed new stadium as part of public-private partnership. It's construction giant Astaldi from Italy, who were recently hired for the Bucharest new national stadium.
Astaldi's involvement is more than welcome as the city has been witnessing problems in upgrading sports infrastructure. In 2011 12 hectares of land were obtained for a new complex with several major venues, but nothing happened so far. Meanwhile another possible location, existing Stadionul Areni, is in dire need of renovations.
The new stadium of 15,000 spectators is expected to cost no less than €15 million.