Rio de Janeiro: Maracanã workers on warning strike
source: Reuters.com; author: michał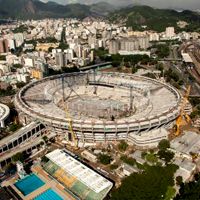 Work stopped for one day yesterday and will be halted further if authorities don't meet the demands of workers on site. They expect better working conditions. Will authorities agree in race against time?
Maracanã, Brazil's largest stadium, was due to be delivered in late 2012 and even that deadline was seen as a tight one. Then it was postponed to February/March and now until mid-April, just days before the 2013 Confederations Cup.
As if this wasn't enough, yesterday workers have downed tools in a warning strike. They' re demanding a wage increase, meal vouchers and private health insurance for their families. If authorities fail to meet their demands, full-scale strike will start next week.
The famous arena, which staged the final matches in the 1950 World Cup, is being refurbished for this year's Confederations Cup and next year's World Cup at a cost of at least 900 million reais ($445 million).
It is due to re-open for a friendly between Brazil and England on June 2 and stage its first competitive match, the Confederations Cup tie between Mexico and Italy, on June 16.