New design: Stadion Georgi Asparuhov
source: StadiumDB.com; author: StadiumDB.com team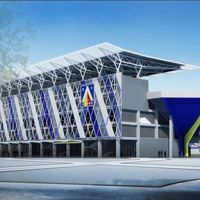 They started with a bang! First new stadium in Bulgaria in years is under construction since yesterday. On Sunday the main stand has imploded, making way for construction works to begin.
Despite seeing renovations since 2006, the current Stadion Georgi Asparuhov hasn't been a modern one for many years. So when CEO of Levski football side Ivo Tonev announced plans to rebuild it completely, fans got reasons for optimism.
Although many projects in Bulgaria never came to fruition, this one seems to be an exception. Yesterday at 4:30pm part of the main stand has imploded as part of demolition works. Before that demolition crew have already removed parts of the lower rows, which were laid on land slope.
The reinforced concrete remains should be removed in time for construction to start early this spring. It has to, if plans introduced by Tonev are to be finalized. He envisaged first two new stands (main one and southern, behind goal) to be ready in May 2014, when Levski is to celebrate its centenary. Stand V (east) would be finished by 2015 and stand G (north) - in 2017.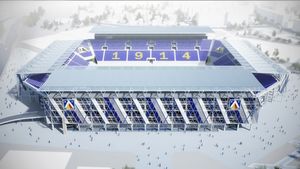 To our knowledge, the project is privately financed and will be first major stadium built in Bulgaria for decades. Facades are to be covered with blue-white cladding creating the Cyrillic "L" letter pattern (the letter stands for Levski as club symbol).
Capacity was announced to stand at 28,000 people, making the venue similar in size to its predecessor. Skyboxes are to be found on both sides of the pitch, with ends being left for regular fans only. Not all sections of the crowd are to be covered – corner stands and first rows of each stand will have no roof.