New construction: Is this a Euro 2020 venue?
source: StadiumDB.com; author: michał

Turkey is growing strong ahead of UEFA's vote on Euro 2020 hosts. Though with several more venues like this one the country might be able to fight for a World Cup in a few years. Let's see how it looks in Konya, shall we?
With Galatasaray having opened their new stadium just last year and Kayseri doing the same before that, modern stadiums in Turkey seem to be growing faster and faster. Just now several cities plan on building 30,000+ stadiums with three that exceed 40,000 already being under construction. In Trabzon artificial headland is being created as new venue's basis. In Bursa stands already reached their highest point for the new "Crocodile Arena". And then there's Konya who are just starting works now.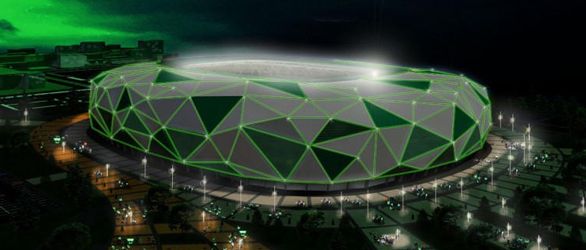 Double-tiered stands for 42,000 spectators are already under construction, just over a week after contractor (local company Gintaş) has been announced. Workers will be working to recreate Ofiss Mimarca designers' vision for a ground that resembles a flat ball. Although sounding awkward, the polyhedron-shaped form seems a rather elegant one, based on renderings.
The stadium should be ready in 2014, just in time for UEFA's vote on Euro 2020 hosts. At this point Turkey is among 3 confirmed bidders and by far the strongest one, with rivals being Ireland-Scotland-Wales and Azerbaijan-Georgia.