YouTube: Stadium of the Year: Previous Winners
source: Stadiony.net; author: Kuba Kowalski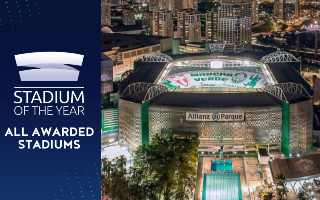 The next edition of the Stadium of the Year competition is approaching! We would like to take this opportunity to introduce you to all twelve previous winners. Let's take a look back to 2010, when we awarded the Stadium of the Year title for the first time.
The Stadium of the Year competition is the largest of its kind, attracting tens of thousands of votes from all over the world every year. The record number of those who decided on the title was set in 2014, when almost 100,000 people took part in the competition. So far, the contest has already been organised 12 times in the Polish version, and the latest edition was the tenth in the history of the English-language website. Between 2014 and 2020, in addition to the public vote, we have involved world-renowned jurors, who have selected, in their opinion, the best venue from the list of nominees. You can find out about all the competitions and their participants here.
Some of the stadiums you will see featured in the video are well known to you, but we can bet you don't know all of them. If you are curious to know which Belgian stadium won the vote against Brazil's Maracana and other competing venues, or where we went to present the award in person, we invite you to watch the video. Depending on the year, the winning stadiums were recognised for various attributes - appearance, functionality or modernity. Sometimes, it was also the mobilisation of supporters of the clubs to which the arenas belonged, or the initiative of the stadium operators, that decided the winners.
Stadium of the Year 2023, however, is still to come. So stay tuned for more content presenting profiles of the stadiums that will take part in the competition. There will also be a video tutorial so that you don't have to worry about how to vote. And now we invite you to watch!