Liverpool: Everton's new stadium is a masterpiece, isn't it?
source: StadiumDB.com; author: StadiumDB.com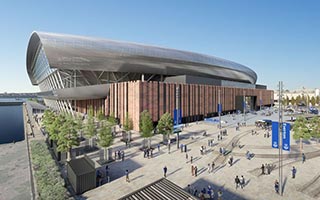 If you've ever flown from Dublin to Leeds, you'll be aware of the route that takes you over the city of Liverpool. By this stage, the plane is well into its descent and you have the luxury of identifying landmarks in this iconic city whilst peering out of the window.
One of the most striking spectacles whilst doing this is the difference in size between Anfield and Goodison Park which can be clearly observed from the skies given how close the two stadiums are to each other. In fact, for a long time, this writer thought Goodison Park was Prenton Park, home of Tranmere Rovers, owing to how small Everton's home ground was to Liverpool's, which seems to disproportionately tower over it.
Liverpool's long shadow
In truth, this is emblematic of a long power struggle in the city when you consider that for longer than any Everton fan cares to remember, their club has been in Liverpool's shadow. Indeed, the Reds' 65 major trophies vastly outnumber the Blues' 24, and, in short, being in such close proximity to one of Europe's most successful clubs has meant that Everton supporters have had to come to terms with a number of demoralizing realities over the years. With this in mind, you can understand why Everton fans have, to some degree, developed a chip on their shoulders; it is only natural when the most jarring comparisons regarding the disparity between the two clubs are being made on a weekly basis.
At least, so often, when Liverpool are traveling to places like the San Siro in early spring as they bid to win the Champions League, Everton are having to pull a rabbit out of the hat during an away day to Turf Moor in order to stave off relegation to the Championship. In recent times, especially, the gulf between the two Merseyside rivals has never been greater. There could, however, be cause for optimism among the Everton faithful as their new stadium at Bramley-Moore Dock nears completion. It is estimated that the club will be able to move in for the start of the 2024/2025 season and this could be a significant moment in the history of Everton and Liverpool given the sheer grandeur of the Blues' home to be.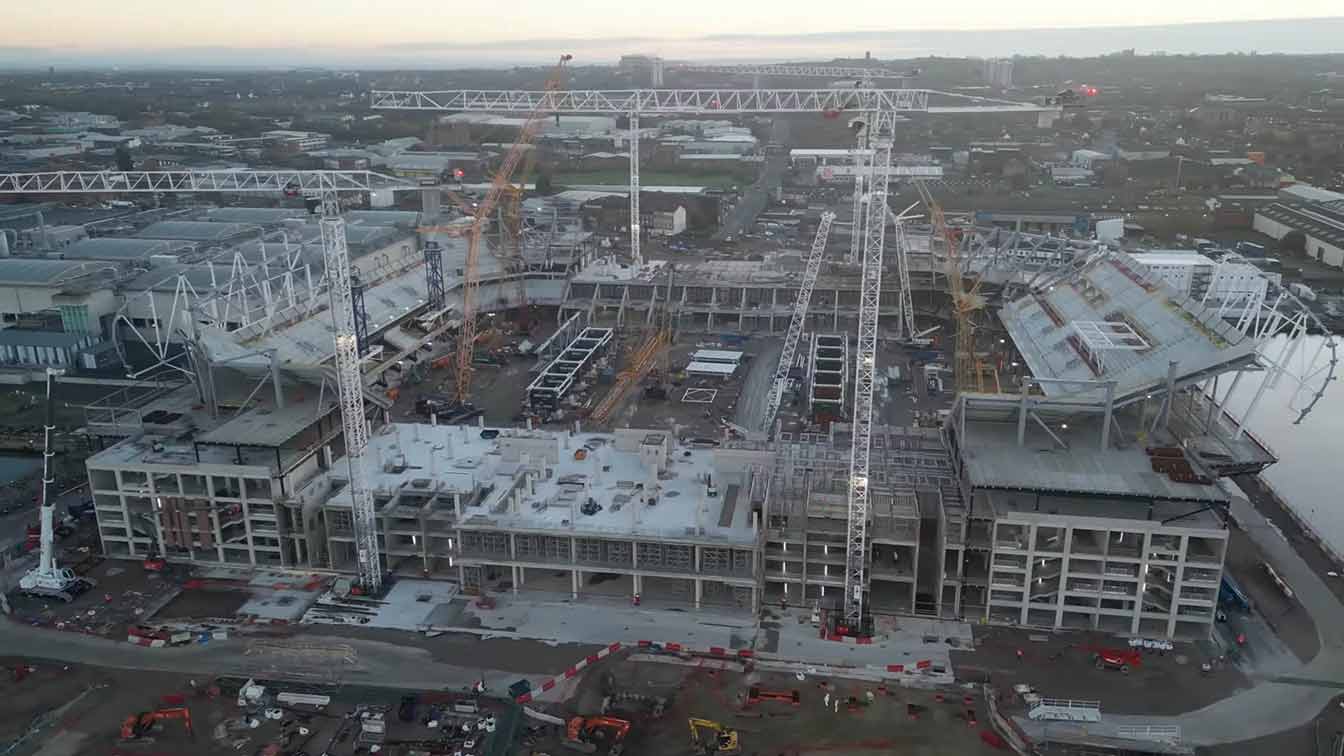 © Mister Drone UK
To start with, Everton's new ground will be able to hold an extra 13,000 people than Goodison Park currently can, which ultimately means a better atmosphere and more importantly, higher gate receipts. Above all, this will be the determining factor in Everton's bid to knock Liverpool off their perch as bigger attendances mean more scope in the transfer market.
History tells us that a change of scene is all it takes
In essence, this is why, over the years, we've seen the likes of Arsenal move from Highbury to the Emirates Stadium, Tottenham Hotspur from White Hart Lane to the Tottenham Hotspur Stadium and Manchester City depart Maine Road for the Etihad Stadium. Looking back, we can say unequivocally that all of these clubs have been able to kick on to the next level having made the unsettling decision to relocate. Admittedly, it may have taken a while longer for Arsenal to begin reaping the rewards of moving to the Emirates Stadium but the Gunners are certainly making up for lost time under Mikel Arteta, and remarkably, top the league heading into the World Cup. This is a crucial case study for Everton fans to keep in mind given that Arsenal now have a squad made up of the world's best players. For instance, their trio of Gabriel Jesus, Gabriel, and Gabriel Martinelli all feature heavily in Brazil's side which is, as of the 5th of November, priced at just 4/1 in the latest World Cup betting to go all the way in Qatar. Essentially, Arsenal's journey should fill Evertonians with optimism given that a bigger stadium and the right manager have shown that it can spectacularly change a club's fortunes.
Although it's not just about more fans through the turnstiles that provides a club with the resources to bring in the best players as the real money-spinner is hospitality which all of these aforementioned clubs have honed in on. Everton's new stadium will be no different with the cub boldly promising revolutionary hospitality.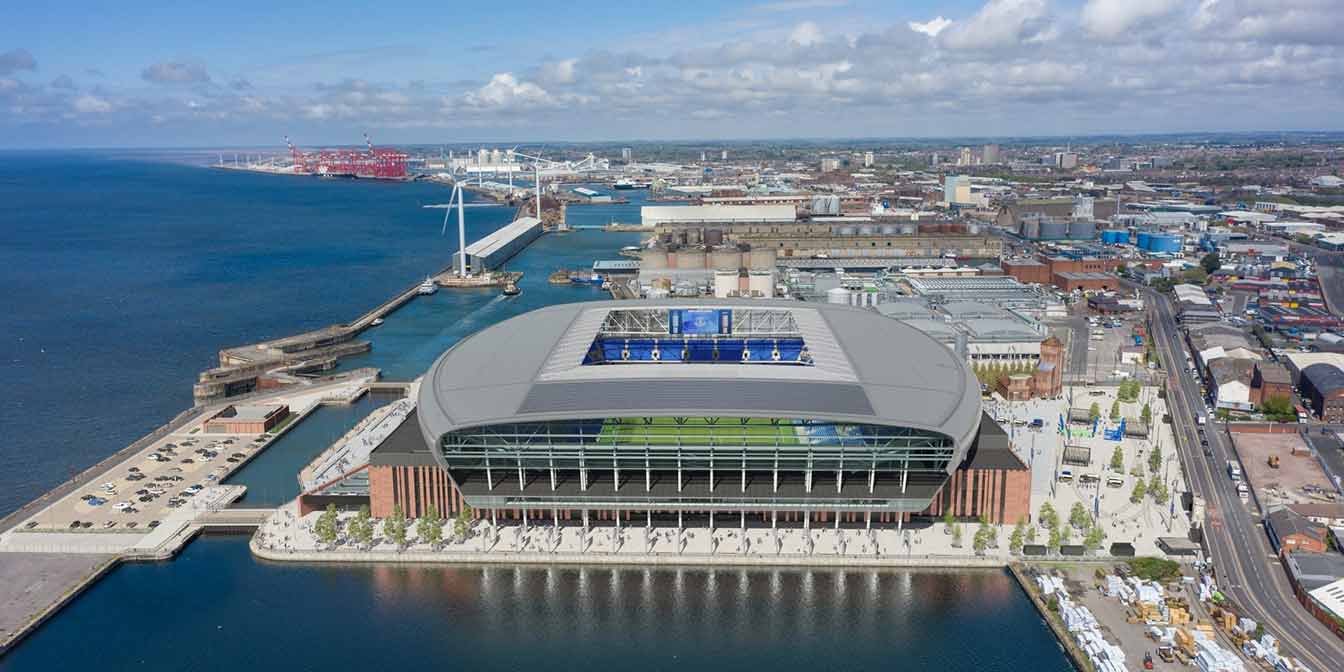 © Everton FC, Pattern Design
Location, Location, Location
Another key point to consider is the location and unrivaled beauty of the ongoing development at Bramley-Moore Dock. Whilst this may seem trivial in the quest to silence their noisy neighbours, Everton's new ground does have to be seen to be believed. Positioned on the mouth of the River Mersey where the waters from the Irish Sea meet, this state-of-the-art facility will, unquestionably, be one of the most picturesque grounds in world football.
This will surely be a strong pulling factor when it comes to signing players and all Everton will need to do is match their ambition by finding a way to bring European football to Bramley-Moore Dock. All in good time, but the stage is set for a revolution to take place with the Blues poised to shake off the tag of being the underachievers in Merseyside.