Tottenham Stadium lands 16th award already
source: StadiumDB.com; author: michał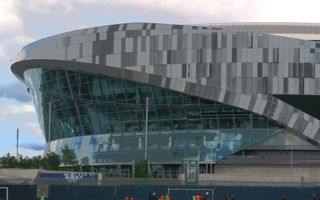 Since its opening in 2019, the new Spurs ground has gained recognition as one of the best modern stadiums worldwide. Now it was also selected for the regional RIBA London award.
Back in the 1990s, England was commonly associated with some of the most modern stadiums around the world. But, as we entered the 21st century, even most Premier League clubs began falling behind international competition, especially after Germany received major boost in early 2000s.
Particularly because of the dense urban fabric, England offers difficult conditions for expansion or relocation. For years numerous projects were falling through, be it Portsmouth, Liverpool, Everton of Chelsea's stadium plans. But in recent years, with all of the league focused on improved matchday experience, things are changing around. For example, English Premier League betting sites, or in fact any league-specific odd and betting sites such as Asiabet.org, can easily be accessed through in-stadium WiFi services, now a common feature even up to 5G standard. With fast internet, fans can use the pre-game anticipation to read reviews, compare loyalty schemes of various providers, check bonuses and place bets. Even if not a winning bet for them, this increases the value of a matchday.
© Hzh (cc: by-sa)
Tech upgrades aside, major projects are also moving forward across England. Anfield was expanded and is about to grow again, Everton broke ground on their new home in recent weeks, Fulham are building a new main stand, while Tottenham has delivered the most expensive private stadium project ever built in Europe, surpassing even much larger Wembley. Even with the pandemic causing severe complications across the sports industry, it seems the Spurs' bet is paying off.
The High Street stadium is becoming a landmark not just in London but a showcase for all of football. Just last week, Tottenham Hotspur Stadium was decorated with the regional Royal Institute of British Architects (RIBA) London Award, selected among a shortlist from 173 submitted projects. With this honour granted, the football ground could also grab the 2021 RIBA National Awards and the 2021 Stirling Prize, which will be announced later this year.
Even without the two latter prizes, Tottenham Hotspur Stadium is among the most decorated football venues already. Between 2019 and now it received 16 different awards throughout the architecture, engineering and sports industries. They were granted for a number of achievements, from key aesthetic and structural features, to signage and detailed interior design.
And where the stadium didn't come on top, it was usually a close second to a different venue. You may recall, during the Stadium of the Year 2019, it was less popular only than Budapest's phenomenal Puskas Arena.
While it's still a very fresh project and will most certainly receive further praise, Tottenham are aiming even higher. Upgrades are being introduced already, prompted primarily by the ongoing public health crisis but associated with the matchday experience.
Speaking of upgrades, we should remember that the stadium has been growing season-to-season to accommodate the ever-growing demand. With 62,303 seats already (up from the initial 60,000+ plan), it seems the ground has maxed out on adding seats. But what is still changing is the vicinity of the building. New leisure and residential uses are being added in order to make it an even more appealing space.