Rome: Upcoming elections to affect AS Roma's stadium plans
source: StadiumDB.com [TS]; author: Tomasz
Giallorossi are determined to move out of Stadio Olimpico and erect its own facility elsewhere. Perhaps the breakthrough will come after elections in October.
New possible location for arena
At the beginning of the year, the concept of building the Romanists' stadium in Tor di Valle collapsed. It was a painful blow to the club's supporters, but the future brings a slight breeze of optimism. It is related to the reconfiguration of the city council.
This will happen after elections scheduled for October 3-4. All candidates for the mayor's seat look rather favourably on the club's stadium plans. What divides politicians the most is the location of the future arena.
Fighting for re-election, Virginia Raggi advocates the construction of a venue in the Ostiense district, on the site of the former fruit, vegetable and fish markets. Similar voices are coming from AS Roma, whose management sees great potential in this area, which is located just a few kilometres from the city centre and has a well-developed infrastructure.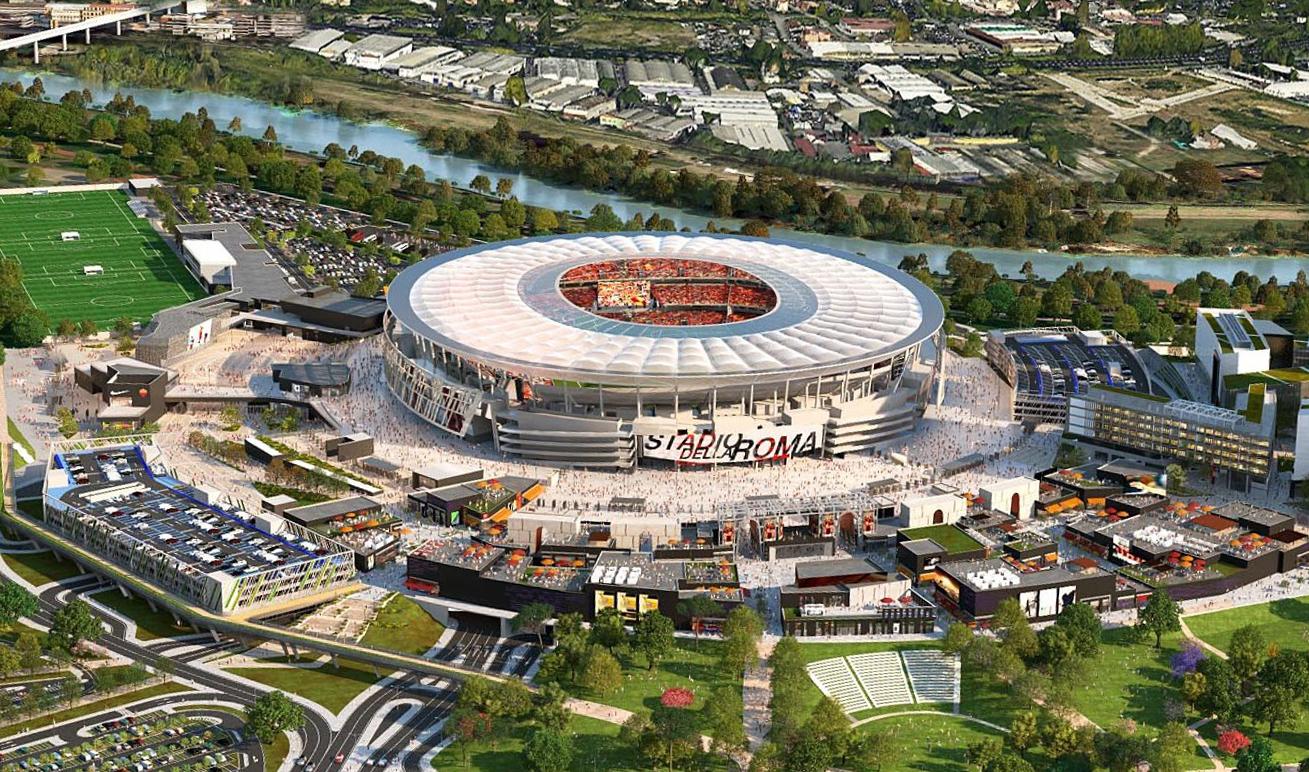 © ASRoma.it
One of the minor problems with this location is the fact that there are two buildings of historical importance, which requires consultation with the Chamber of Cultural Heritage. What's more, an entity called Lamaro has had a concession for this site since 2015. Before the Friedkins (club owners) start a new stadium project, they need to be sure that construction in this area is possible.
Not only Raggi in favour of new stadium
During her campaign, Raggi mentioned that Ostiense is currently Plan A for AS Roma, but not the only option. Subsequently, Pietralata, Tor Vergata and the terrain of the former velodrome are also considered.
On the other hand, Carlo Calenda (the civic list) is in favour of locating the new arena in the Pietralata area, near Tiburtina station. Calenda even presented an in-depth study for this plot of land, which was published on July 6. He set the duration of the project at 4-5 years. Enrico Michetti (the centre-right candidate) was less specific, but promised to speed up the stadium projects for both top Roman teams.
Analysing the statements of decision-makers in the club, it can be concluded that the biggest obstacle in the construction of a new facility is extensive bureaucracy. In the optimistic scenario, the project could be approved within a year after the elections, provided that work on it begins immediately after the announcement of the new mayor and city council.
Author: Tomasz Sobura