New stadium: Shadowy cowboy hat in Texas
source: StadiumDB.com [MK]; author: michał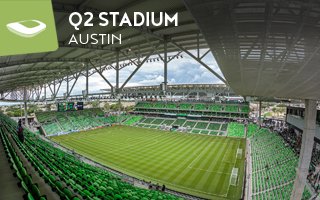 You'll find many country accents across Q2 Stadium but there's far more than stereotypes on display here. One of USA's most modern stadia provides a multi-cultural mix which you might find more European than many stadia in Europe.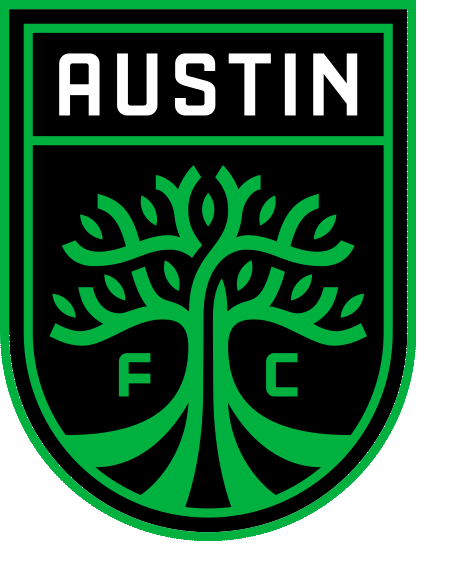 It's already the second MLS premiere of 2021, following Cincinnati's TQL Stadium. Soon we'll also present the third one, Lower.com Field in Columbus, but for now let's turn our eyes to Austin, Texas. Until recently, it was the country's largest city without a professional sports team of any kind. There might be a giant stadium near downtown but that's for the university Longhorns team, amateur by definition. This year things changed, with Austin FC's debut in MLS.
Matthew McConaughey in a green suit
When Austin FC opened their first ever home in mid-June, the world of sports and entertainment saw photos of the famous actor circulating like crazy. Not only did Matthew McConaughey parade in his bright green suit around the VIP areas of Q2 Stadium, he also led the fanatics' loud chants like a regular stadium capo. McConaughey is the team's co-owner and a brand booster at the same time, giving Austin FC added exposure in the increasingly competitive world of US soccer.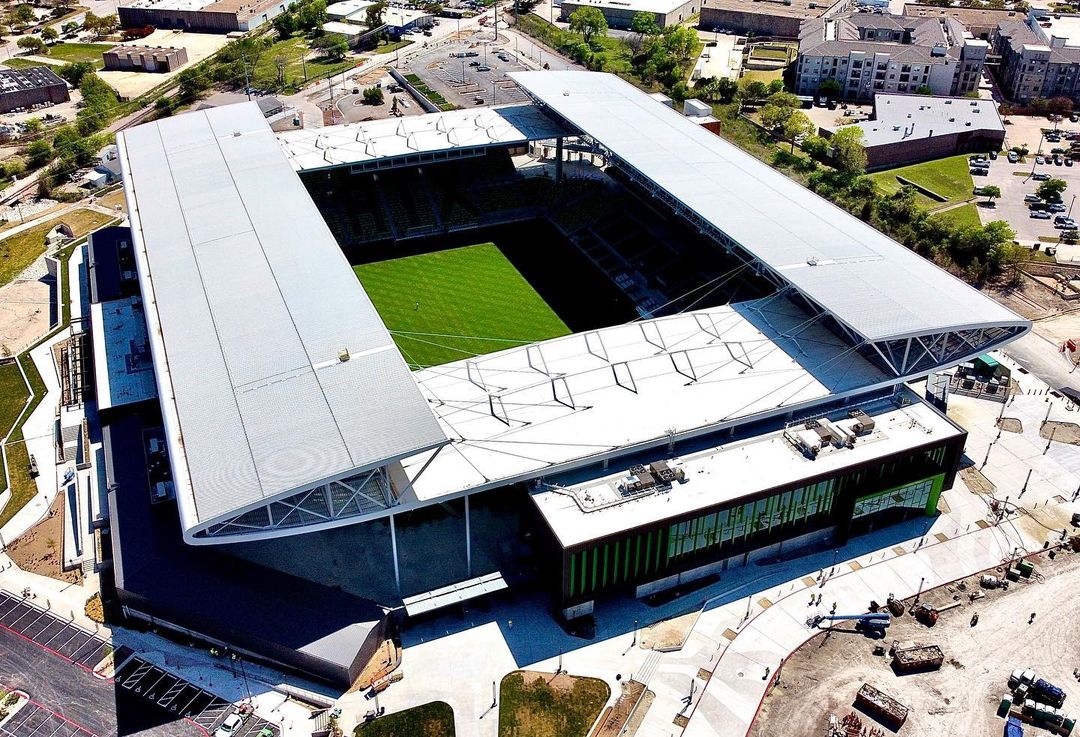 © AIR FX MEDIA
But he's not the main shareholder, nor the most controversial one. The majority shareholder and chairman of Austin FC is Anthony Precourt, previous owner of Columbus Crew. His departure from Columbus turned ugly after he unilaterally decided that he's relocating 'his franchise' to Austin.
What was only a franchise for him, was also one of the oldest pro football/soccer communities in USA. Strong opposition to the relocation and great display of unity in Columbus led to the city still having its club. While Precourt did land a fresh franchise in Austin in the end, his new team earned quite some antagonistic rival from Ohio before even playing the first game.
Q2 Stadium on time, despite pandemic
Although the 20-year lease of land at McKalla Place in Austin was secured well in advance, most of the new stadium's construction was carried out in COVID times. This resulted in temporary halt of all works and changes in deliveries, including the need to import roof cables via air instead of sea. In the end the schedule was only so slightly affected and the stadium got delivered this spring.
Even better, its opening games (yes, there were two) were both held with 100% occupancy after restrictions were lifted. Also, Austin FC managed to secure a naming rights partnership well in advance, 5 long months before opening.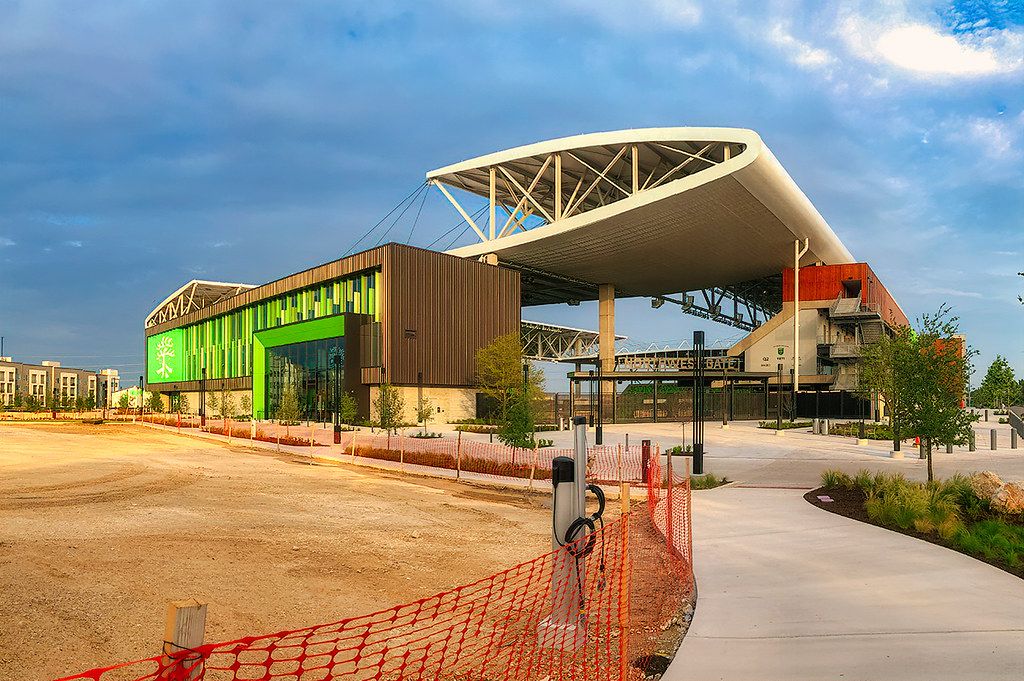 © Francisco Valladares
The project's budget also stayed within reason, growing from early estimates of $241 to some $260 million (€220m). While still a massive amount for a 20,700+ stadium by international standards, the price is nothing extraordinary in the US.
The result is one of the most shadowy stadiums across MLS, with the second largest canopy. Fully opaque, the roof is designed to provide protection from the sun not just when fans are seated but also across the concource.
Something for everyone, quite literally
We've prepared a detailed description of Q2 Stadium for you in its presentation. So here let us just mention that it's a true melting pot, in many ways. Yes, you'll find fans in cowboy hats around the stadium, you'll also find country-themed décor in some areas.
But you'll also find Spanish signage and very European type of atmosphere mixed with influences from Latin and North America. In recent years MLS has grown to become perhaps the most the most inclusive pro league in the US. Not just ethnic but also gender minorities are welcome here.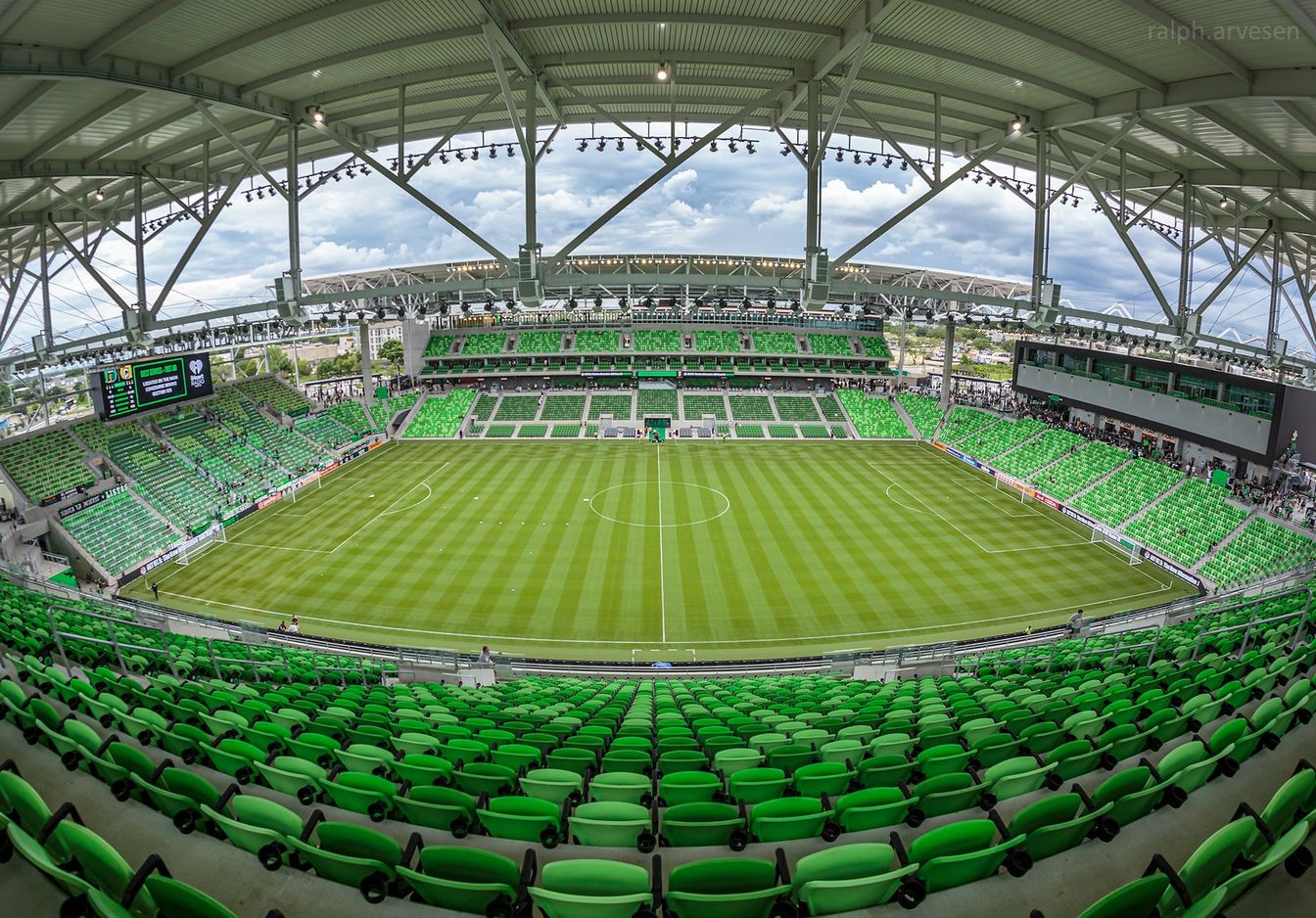 © Ralph Arvesen
English fans might look in envy at the steep single tier with safe standing behind the south goal. German fans might get slightly jealous of the stadium's beer hall, while disabled fans from across Europe might find it fantastic that even the section for most vocal supporters has places for wheelchairs included.
Of course, there's also an abundance of hospitality areas across the stadium, with a Texas open air touch. The stadium offers a lot of shade though its impressive canopy and great natural ventilation to fight off the Texas heat. What else? To read more about its facilities, just follow this link!
Author: Michał Karaś