Madrid: Key challenge completed at Bernabéu
source: StadiumDB.com [MK]; author: michał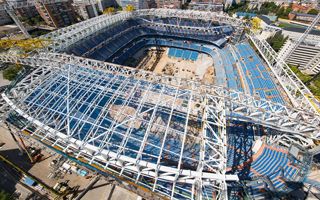 It was one of the most complex operations during the entire reconstruction process of Madrid's largest stadium. 2,100 tons of steel travelled smoothly from the west of the stadium to the east.
Real Madrid presented photos and video of a crucial phase during the ongoing Estadio Santiago Bernabéu reconstruction. In order to explain its difficulty, we have to start with the basics: almost complete lack of space for works.
On three sides the stadium sits just 30-40 metres away from residential blocks, making the set up of an assembly site possible only in the west, along Paseo de la Castellana. This is where the largest elements are assembled and then raised atop the stadium.
While smaller elements can be lifted by any of the six tower cranes, primary trusses are beyond their limits. Keep in mind, the roof has to bear the load of a retractable system and one of the world's largest panoramic video screen. In total, the roof structure will consume just under 10,000 tons of steel, a remarkable amount.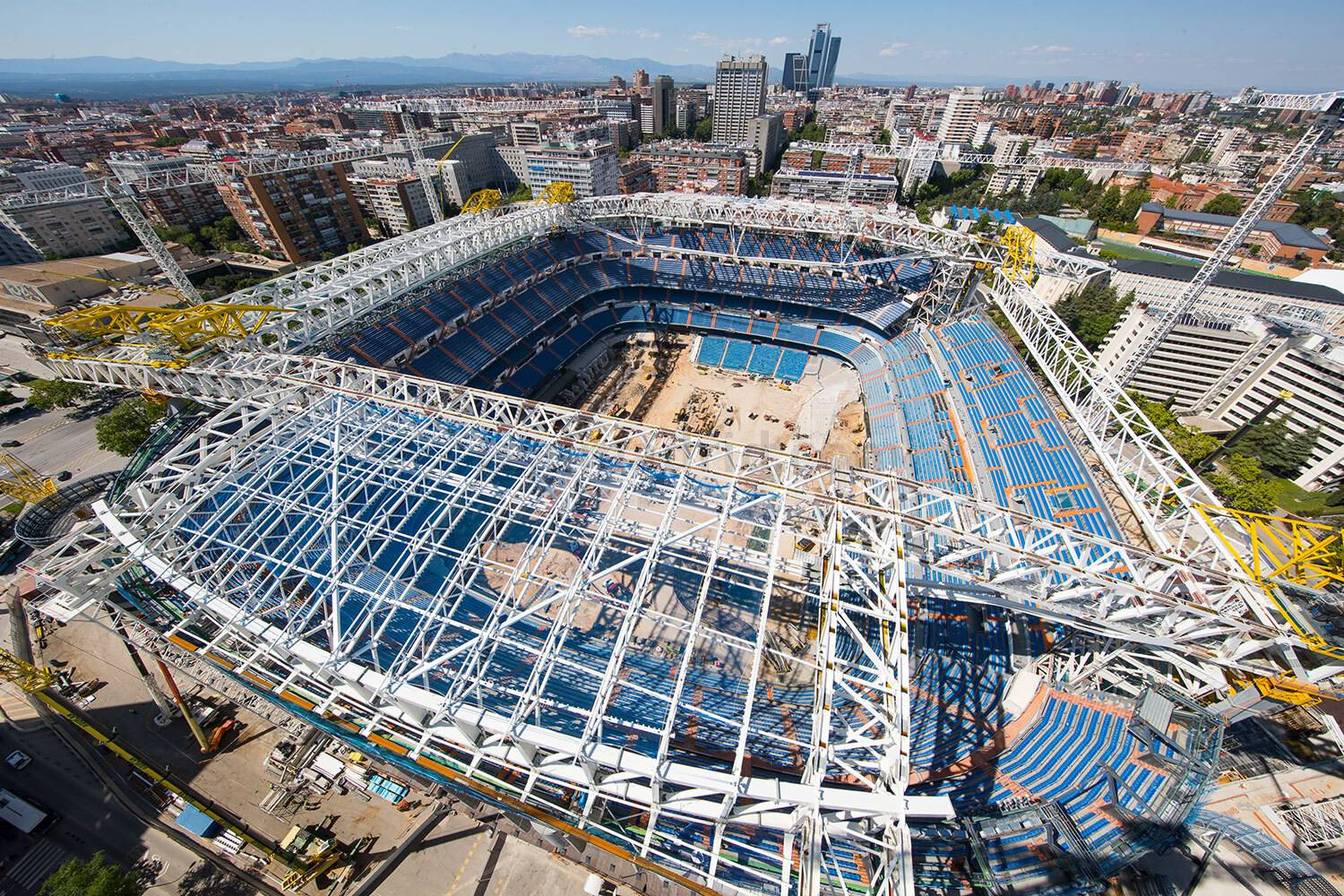 © RealMadrid.com
Solution: rails from west to east
With the only place available in the west, engineers had to find a solution to move assembled elements eastwards. To make it possible, two primary transverse trusses also serve as rails for carts moving loads across the stadium. To match the functions, both trusses were extended out of the stadium, reaching 176 metres each (will be cut after rails are no longer needed).
As we wrote in late April, the east stand's permanent roof will consist of two primary longitudinal trusses, each app. 140 metres long and up to 800 tons. Both were assembled in spring and then lifted in order to enable installation of 22 secondary trusses connecting them. Once the entire segment was complete, on June 7 the four carts began moving towards the east stand.
Their road wasn't just long, it was also complicated. Rails begin at the heigh of over 60 metres but their peak height reaches 70 metres. First, all carts had to travel uphill (11.7º), then had a smooth level section of 45 metres only to end at a downhill position (11º) above the east stand. Several metres per day, the operation concluded in late June, with the roof having travelled app. 140 metres.
Today the 2,100-ton structure is nearly in its final position, resting over 60 metres above Calle del Padre Damián. It awaits integration with other parts of the permanent roof.
Meanwhile, the west side is once more free of major structures, which allowed construction workers to assemble both primary trusses of the west stand's roof. Both of them are now complete and awaiting their own lift into position.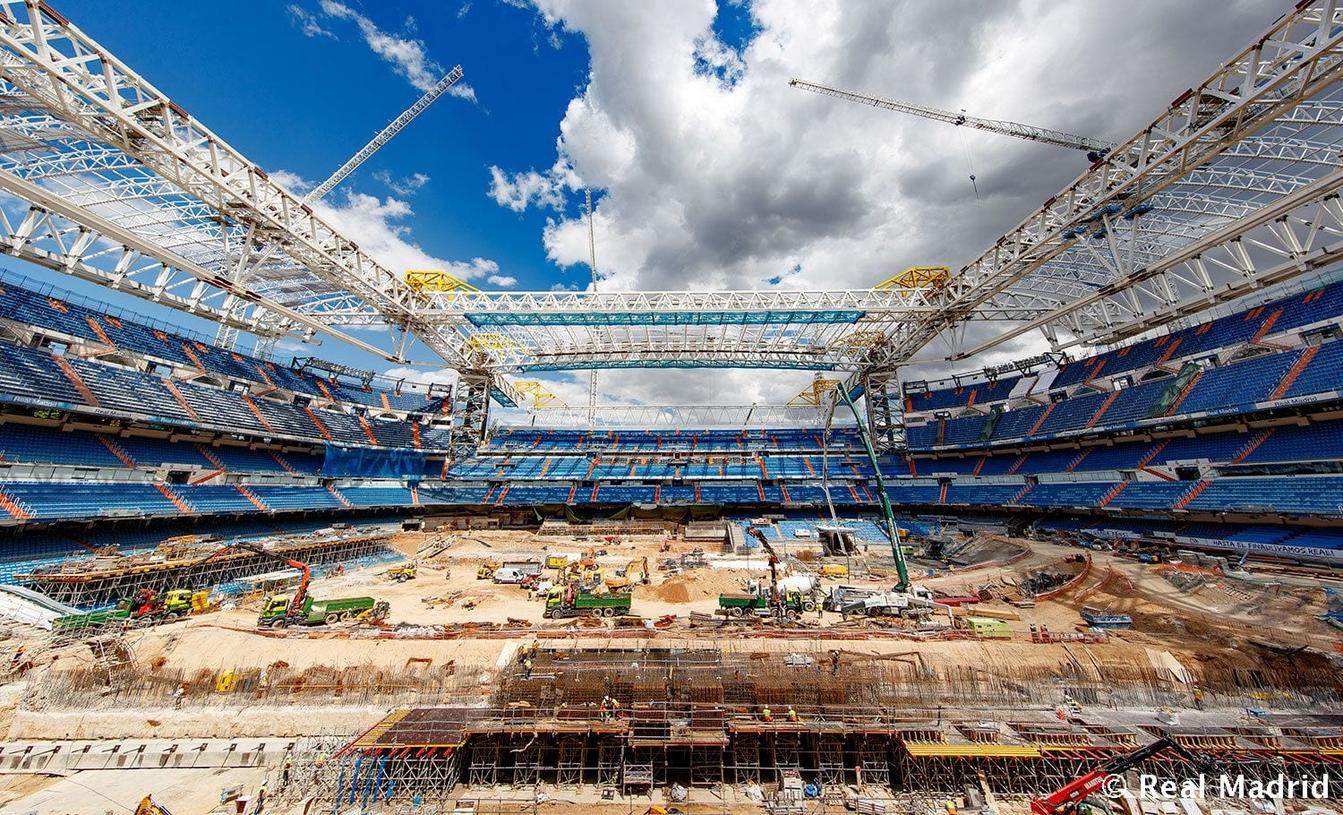 © RealMadrid.com
Time of essence, fans coming back
As confirmed by Real Madrid, the team intends to welcome supporters back at Bernabéu during the 2021/22 season. Despite the stadium now being a construction site in almost all areas, it's expected to be ready for the first game on September 11, against Celta de Vigo.
Of course, the stadium will remain a construction site for several more months, until mid-2022 at least (likely later), but should be secured enough to see fans inside once more.
Author: Michał Karaś