Liverpool: Everton announce groundbreaking!
source: StadiumDB.com [MK]; author: michał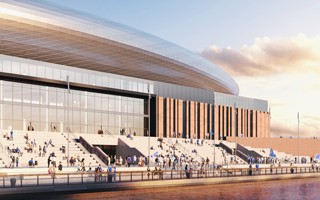 After over 20 years of trying to relocate from Goodison, the Toffees are finally just days away from starting construction of their new stadium. Come 2024, their fans will enjoy one of the best stadiums across the Premier League.
Today Everton FC officially announced the groundbreaking for Bramley-Moore Dock Stadium, in north Liverpool. Work is expected to begin on July 26, on the very same day Everton take possession of the site from Peel L&P.
We're tempted to write something about the first shovel going into the ground but the stadium will be built where water is today. The dock is yet to be filled with soil before actual stadium work can begin, which is also why Everton want to waste no time. Exactly on that day the general contractor will begin moving in and prepare for work.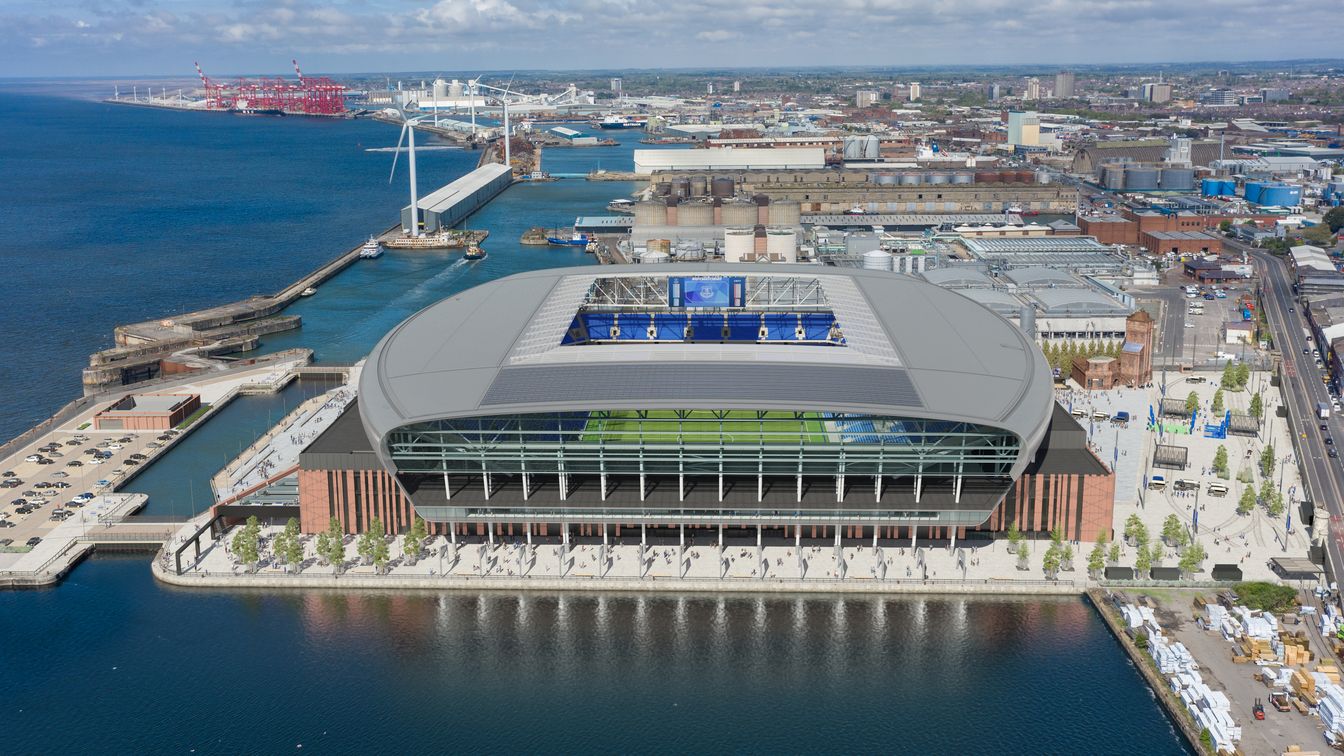 © Everton FC, Pattern Design
What to expect as construction begins?
Laing O'Rourke has a long to-do list as the site needs to be secured, container facilities have to arrive and only then further steps will be made. Elements set for demolition will be cleared, while those required to be preserved, like the main gate, portions of the historic wall or the hydraulic tower, need to be protected before their restoration can take place.
Within the dock itself work needs to start with removing marine life and making sure no new fish would get in during infill. The dock deposits then have to be raked before the soil infill arrives.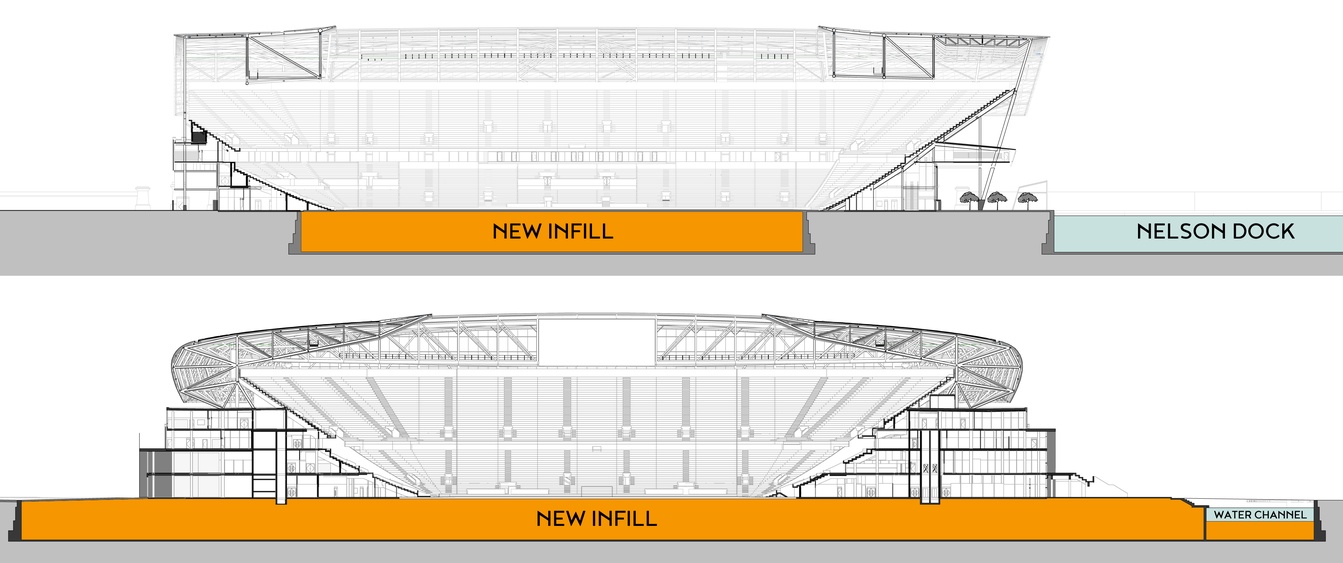 There's over 10 metres from the bottom of the dock to local ground level, to filling it will require significant number of truckloads. Only once the infill is completed and compacted, piling and foundation works can follow.
Interestingly, Everton are planning to remind fans where the water will have been. The area now filled with water will be covered by different kind of paving (see below), with a gradient resembling a shimmering water surface.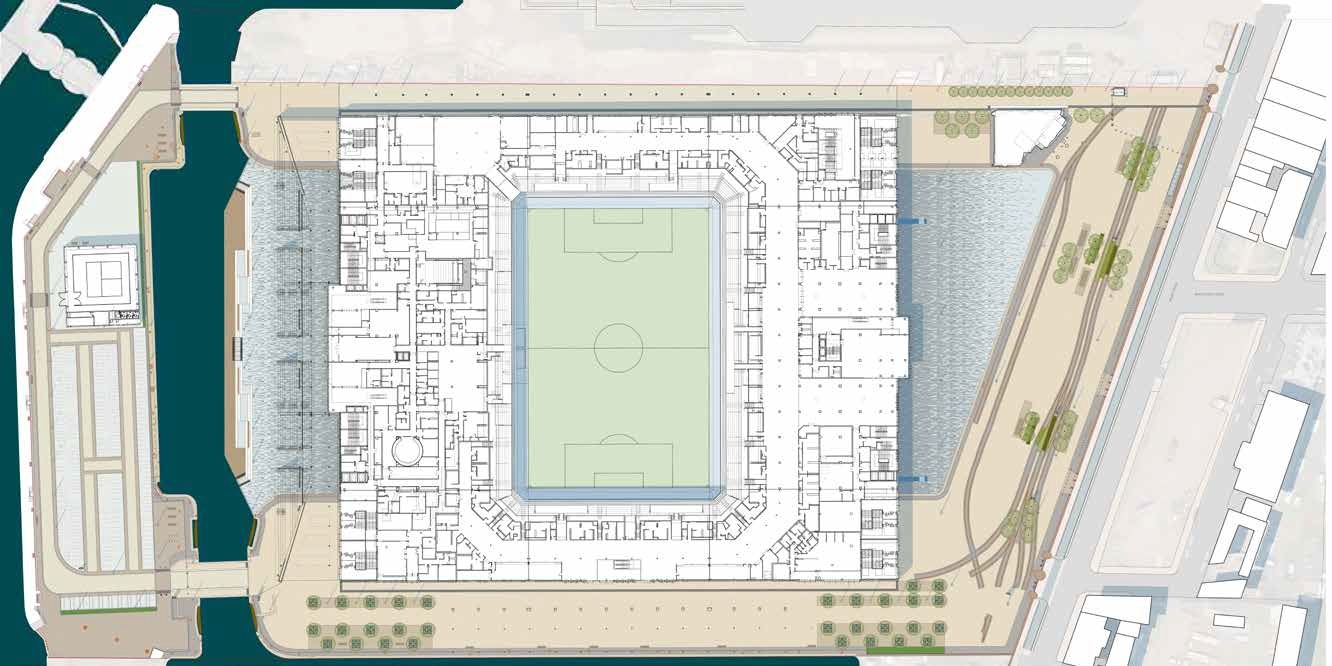 © Everton FC, Pattern Design
Project of strategic value
Even the risk of losing the UNESCO World Heritage listing didn't stop local authorities from giving the green light. No wonder, because the stadium now priced at £500 million (€582 / $690 million today) is one of the key projects to boost local economy, particularly with post-COVID recovery in mind.
Annual stadium operation is expected to see 1.4 million visitors to the venue, with some £255 million spent through local supply chains. During construction alone, up to 12,000 jobs are to be created (some of them temporary, of course), with 3,000 more in the long run.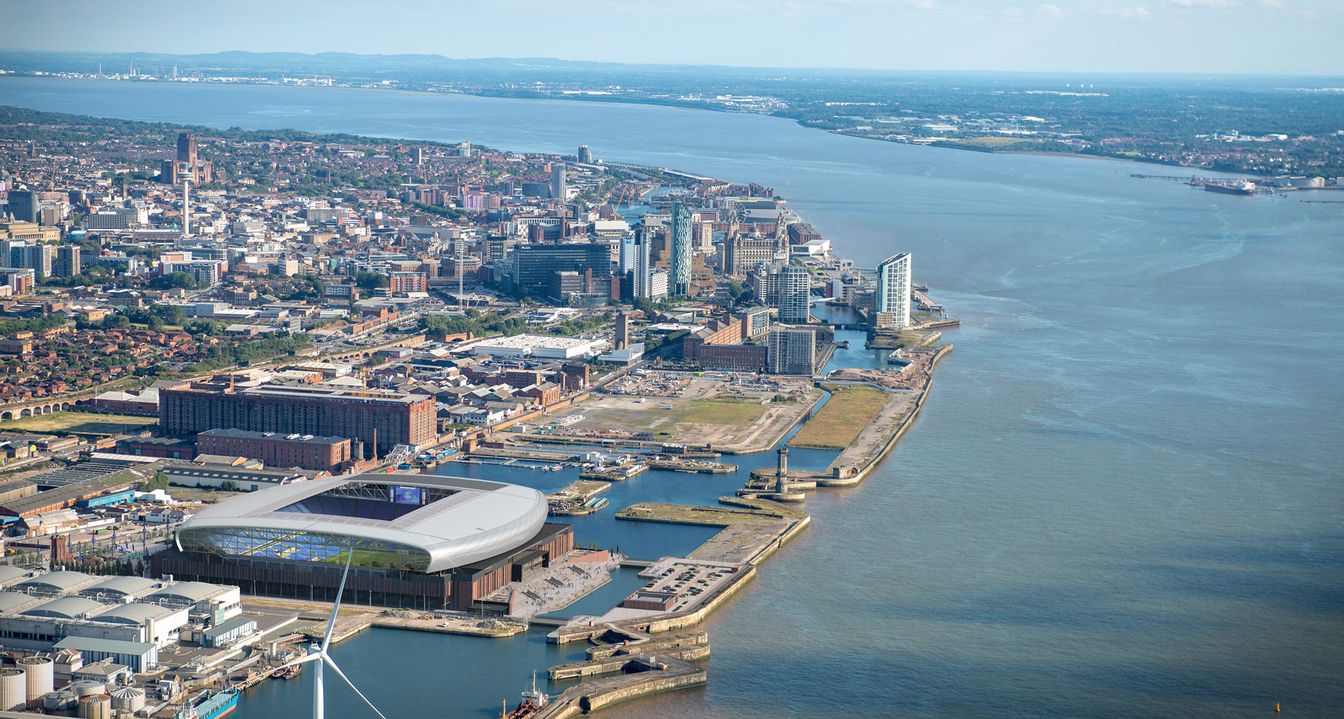 © Everton FC, Pattern Design
What will the new Everton stadium be like?
The dream of leaving Goodison Park (seeing that its redevelopment wasn't feasible) began back in late 20th century but two previous efforts fell through. The current plan, introduced in 2016, reached a moment in which all we're waiting for is actual construction. It took years of efforts, design by two different teams, thousands of pages of documentation, extensive consultation and a complicated approval process to get where Everton are today.
In 2024 the Bramley-Moore Dock Stadium should be able to welcome 52,888 fans. While the dock lies on the west-east axis, the stadium's orientation will be traditional (north-south), with the main stand in the west. The auditorium is split into two tiers, although it's very compact and steep, with a single-tiered area of safe standing for most vocal fans.
The outer form is divided into two separate volumes. The 'heavier' one will be covered with brickwork, while the upper one will be more dynamic and clad in metal and glass. The north and south sides will see significant glazing, while the south will also offer a viewing deck. Two gathering spots will be created, one in the west and one in the east of the stadium.
Author: Michał Karaś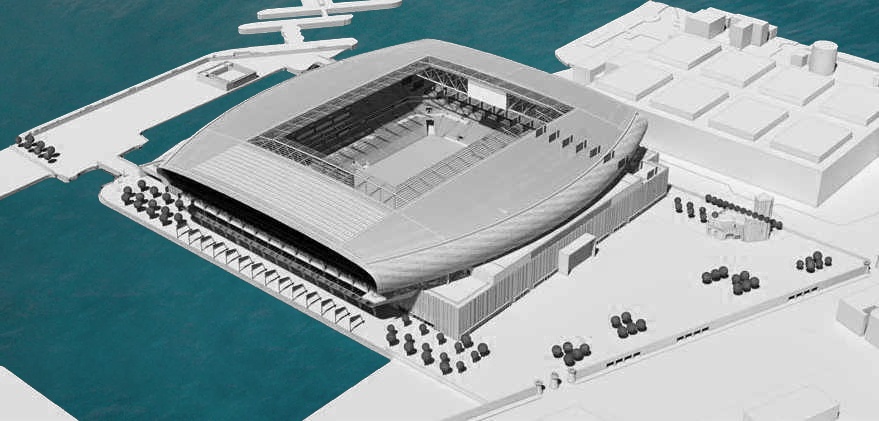 © Everton FC, Pattern Design