Austin: Q2 Stadium ready for opening
source: StadiumDB.com [MK]; author: michał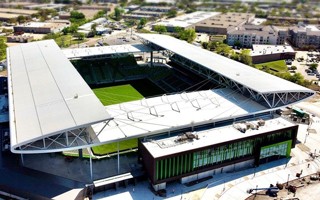 With a list of games already scheduled and expected to be played to crowded auditorium, Austin FC's new stadium is taking shape and gaining a better identity, connected with the city it will operate in.
With over 44,000 people expressing the will to watch games here, and with all 15,500 season tickets sold, one might think Austin FC don't have to do anything more to make their stadium more appealing. But that, thankfully, is not what the latest MLS franchise decided to do.
AFC are about to announce a fresh art initiative, one of several to accompany their home launch. ATXFC Artist's Initiative will engage numerous local artists in a variety of projects, the first of which is a collaborative mural at the new Q2 Stadium, expected to cover over 55.2 square metres (nearly 600 square feet).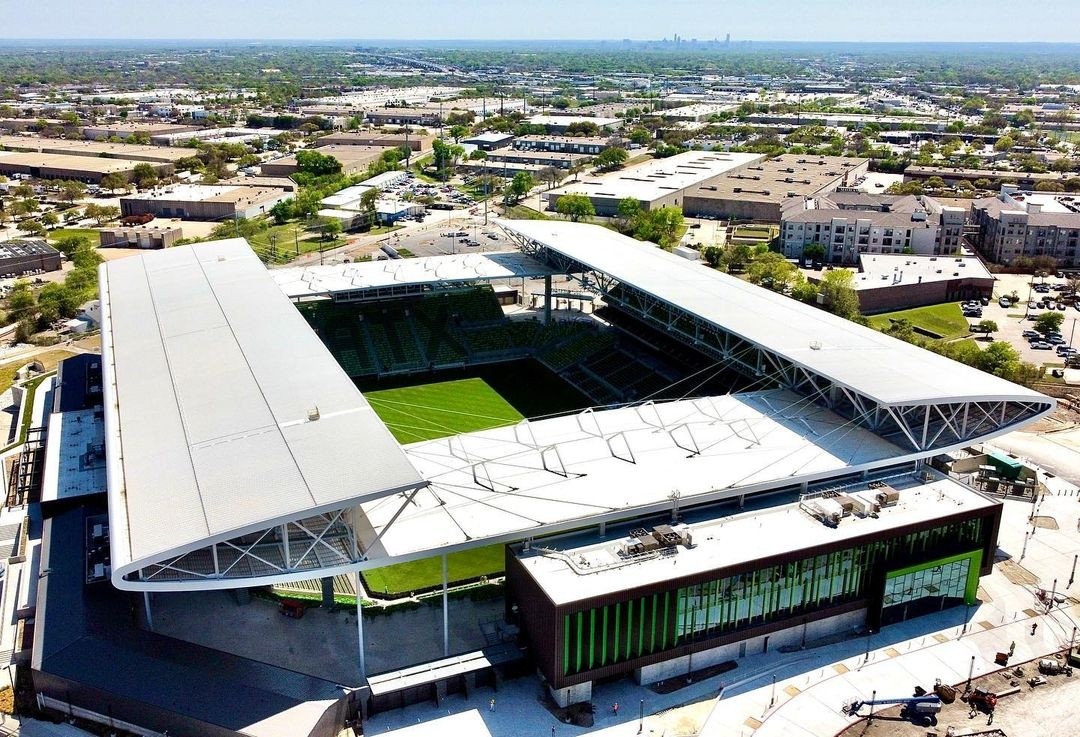 © AIR FX MEDIA
ATXFC will result with far more than just murals. Art projects will be included in special merchandise series, as well as on match posters and graphics. This way local artists, all compensated for their work, will also gain wider recognition.
Bilingual identity
It won't even be the first mural at the complete stadium, there are decorative elements spread across the venue already. One thing you might notice is the usage of both English and Spanish, as with official club communication.
This is owed to over a third of Austin being Hispanic/Latinx and comes as an effort to draw some of local Liga MX fans to the new stadium. Judging by the names of supporters groups already established, there will be many Spanish-speaking fans and chants at Q2 Stadium. The club's squad also includes natives of Argentina, Colombia, Costa Rica, Paraguay, Uruguay and Venezuela to help Spanish-speaking locals associate themselves with the club.
After all, the club's nickname is already promoted to be 'Verde' or 'Los Verdes' (Green or The Greens) and such is the name of the club's main megastore. While the stadium itself is still waiting for official inauguration, the 465-square-metre (5,000-square-foot) Verde store has been in use from May 1.
Schedule of first games
As agreed with league and continental football's officials, the opening match will actually not see Austin FC playing at Q2 Stadium. The first kick-off, on June 16, will be between women's national teams of the US (reigning world champions) and Nigeria.
As for Los Verdes, their first official match will come just three days later. On June 19 the club will face San Jose Earthquakes. Over a month later, on July 29, the new Austin stadium will also debut as a Gold Cup venue, hosting the tournament's semifinal.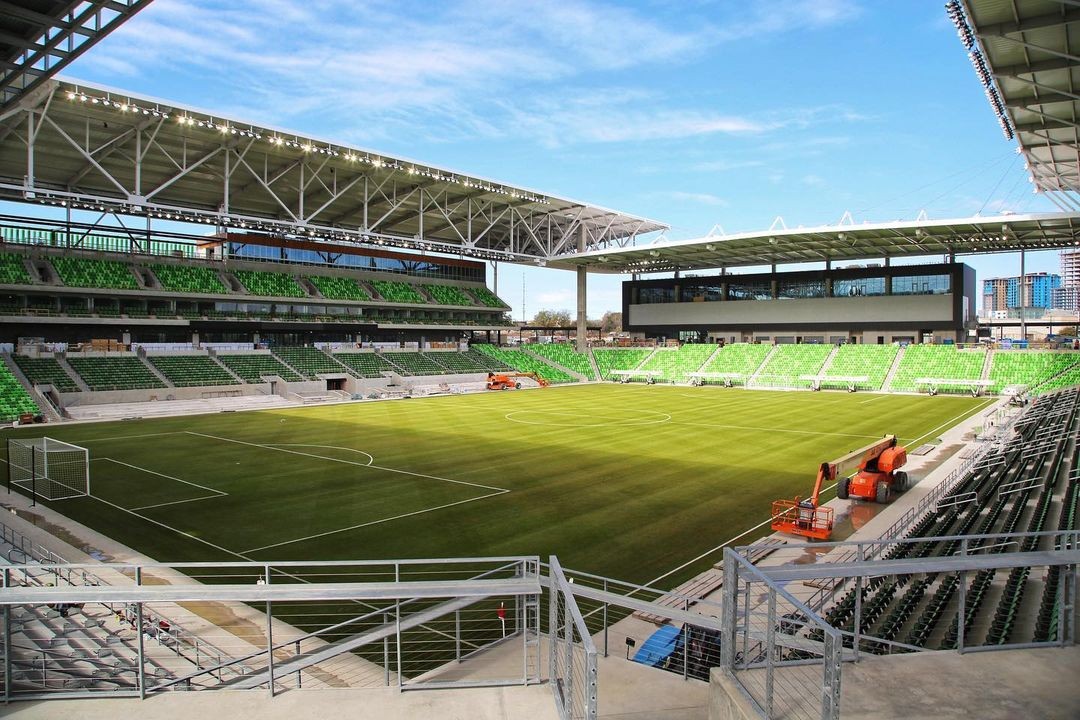 © Dani MacKenna
It remains unclear at this moment, how many spectators will be able to attend these and other games during the 2021 season. While the state of Texas allows up to 100% capacity and some MLS teams are going in this direction, Austin FC are expected to announce their decision on crowd size soon, by the end of May. It will depend on a number of factors, including public safety recommendations.
About Q2 Stadium
Built on the former industrial site in McKalla Place, the stadium sits just north of Austin's ring-road. It offers capacity of 20,500, including roughly 3,500 standing places. All spectators will be covered with a uniquely shaped canopy.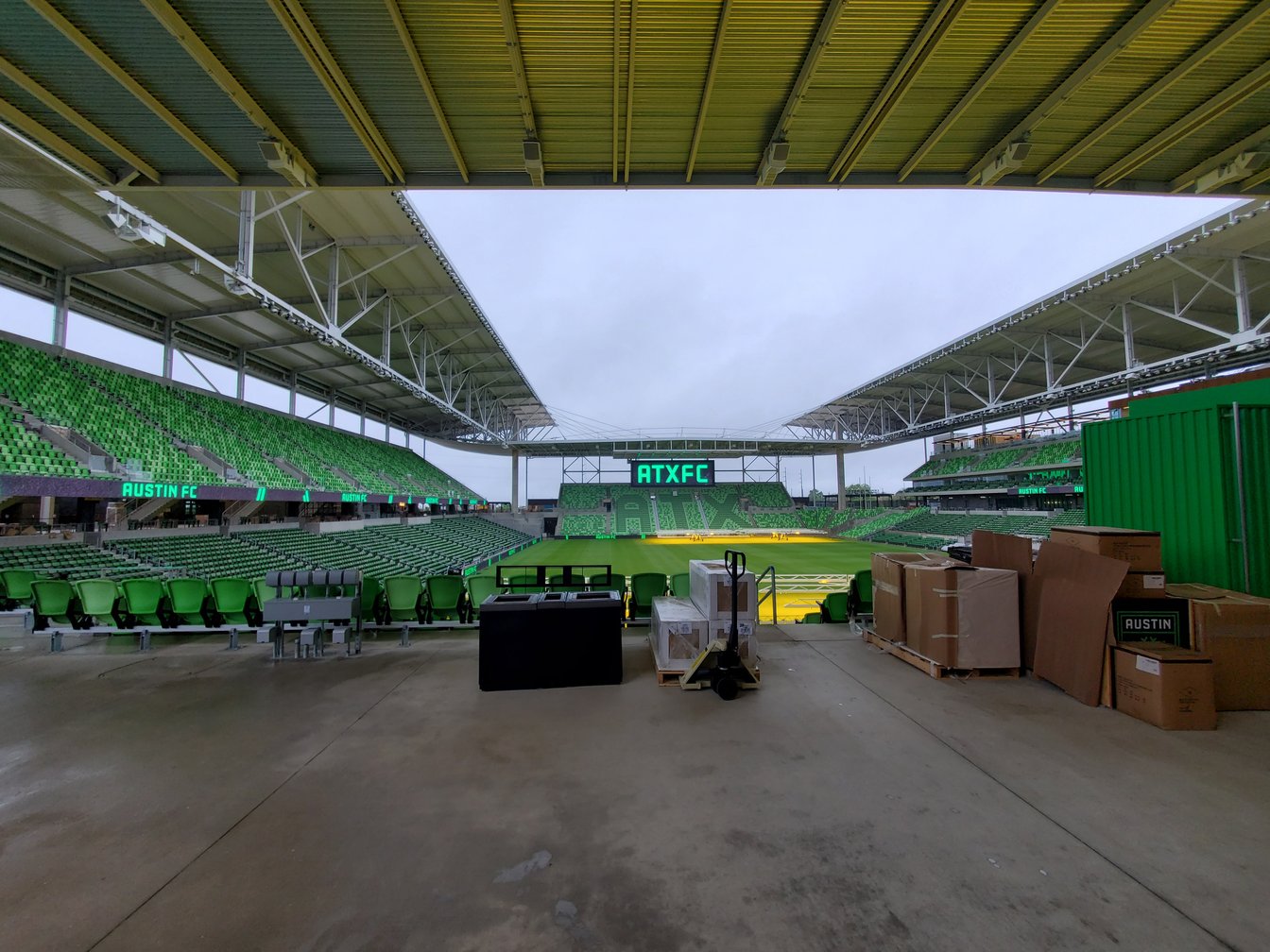 © urbanlegendatx
While delivered on public land, the building was funded entirely privately, led by team co-owner Precourt Sports Ventures. The price tag was first expected to stay within $200 million, then grew to 240 million and is now understood to be closer to 260 million (€212.8m).
Once delivered, the building becomes municipal property, while Austin FC take over as lease-holders for at least 20 years. Their annual lease payments of $550,000 will begin in year 6 of the lease. Austin FC have also pledged significant subsidies towards public transportation.
Author: Michał Karaś